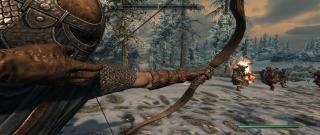 Views: 8,507
1.21
Scrabbulor
FAQ
Does not use scripts.
Everything respawns.
"Ultra" compressed by 7z.
Fully compatible with Dawnguard.
All plugins can be used at the same time or individually.
All enemies scale but relative to their expected strength.
Can be loaded anywhere in your load order, preferably higher so these plugins can be affected by other mods.
Crashing or have a weak PC? Disable or don't select the Battles Plugin. Many pcs will not be able to handle the spawns.


Translations: Italiana German

Vote Immersive Patrols for FOTM October 2012



Civil War Plugin
The Civil War plugin adds Stormcloak and Imperial patrols to Skyrim using vanilla NPCs to be as lore-friendly as possible. Patrols always return to camp and will remain there and interact with objects, chairs and beds until the next shift. They will continue to patrol after the Civil War quest line has been completed.


Battles Plugin
Adds Moderately sized battles to four (for now) locations in Skyrim. When the battle is complete the winning faction will head to the nearest fort and either fortify or capture it. When the losing faction respawns the two sides will duke it out again. These patrols have a minimum level of 10 to keep battles from being a quick landslide with more than half of one faction remaining. Still, choose your battles wisely. You'll often find yourself up against (or running from) many more npcs than the game was designed for. Use those shouts!


Bandit Plugin
The bandit plugin follows the same principles in the Civil War Plugin except bandits don't have a defined daily route. They head from bandit "camp" to bandit "camp" with their own schedules but the route they choose is up to the engine.


Travelers Plugin
The Travelers Plugin adds groups of traveling citizens and salesmen with future plans of location based travelers, for example the Temple of Mara, Shrine of Azura, the Gildergreen, etc. Just need to find the dialogue lines. Current groups of travelers consists of a merchant, his/her mercenary and a commoner. They travel to all the capital cities besides Dawnstar and Winterhold for "lore" reasons. Once they have arrived in a city they will head into an inn or bar where they will sit, interact and continue to trade with the player until the next day. You can meet them on the roads just as you would any other npc.


Werewolf Plugin
The Werewolf plugin adds 6 free roaming Werewolves to Skyrim. It also adds groups of 3 Silverblood Npcs that will hunt the player if in Werewolf form. Fully compatible and affected by other werewolf mods. The silverblood even attack followers that transform into werewolves as long as they are part of the playerwerewolffaction.


Dawnguard Plugin
The Dawnguard Plugin adds groups of Dawnguard and Vampire patrols to Skyrim. They spawn with both humanoids and dogs. It also adds a Vampire Lord who will hunt the player if he/she is part of the Dawnguard. The Vampire Lord will even attack followers that transform into vampires as long as they are part of the Vampirepcfaction.


Update 1.2
New Battles plugin!
Travelers now react to the Player in vampire form.
Traveler following formation and duration improved.
Death Hound title fixed.
Subtitle short name changed for all plugins.
Vampire Lords now spawn in multiple genders and armors.
The distance Vampire Lords and Silverhand approach when waiting is decreased to a realistic distance.
Silverhand no longer attack the player in interiors, including cities.
Thalmor act more hateful towards the player.


Please Read
This mod does not alter Npcs in Vanilla Factions.
Works perfectly with the ever popular Warzones and most major mods.
This mod does not use any scripts so feel free to install and uninstall worry free.
It can be loaded anywhere in the load order but the closer to the top the better.
Any armour that replaces vanilla Imperial/Stormcloak armours will also change the appearance of corresponding armours in this mod.
All NPCS in each plugin have almost identical stats to their vanilla counterparts except their level scales to the player. They also respawn like regular npcs with vanilla/bloodcoin/any other mod's edited respawn timers.


Recommendations
5 unit version is recommended for an enhanced vanilla experience.
Be sure to endorse if you enjoy the mod and track for updates on optional additions.
Possessive Corpses is also recommended. Its a bug fix for bloated saves and performance hogging lingering weapons and ashes.


Incompatible Mods
Maximum simplicity and cleanliness makes this mod compatible with everything so far. Users have yet to report a compatibility issue that wasn't a mistake.


Respawn
If anyone from this mod dies they'll respawn after 10 ingame days.

How it works, taken from The Unofficial Elderscrolls Pages: "For any area to respawn, the player must not enter the area during the specified time period (10 ingame days in this case). Each time the player enters the area, the respawn clock is reset.".


Known Bugs
NPCs will often be separated shortly if they're nearby when the player fast travels or waits for long periods.
NPCs will sometimes stop following their leader all together. When this occurs it should, as of 1.1, only last until the next day.


Updates
More Guards: Wip
More Guards and City Attackers: Wip