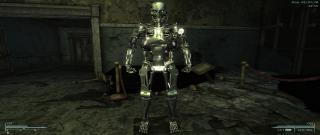 Views: 11,538
1.1
CrushOverwrite
Name: i am Robot
Version: 1.0
Date: 9/10/2010
Category: Armor
Requirements: Fallout3 Patch 1.7, Fallout Mod Manager (FOMM)
Author : CrushOverwrite
Description
===========
Have you ever wanted to become a robot? This mod gives you that opportunity.You wear this armor and becomes like a cyborg.

P.S. all kudos who upload their images

P.P.S. Dont forget your Endorsements,and i create more.Have fun with this mod=)
Location
========
Robco Factory.For more information look at the picture
Requirements
============
For better working use pipboy PDA or pipboy READIUS

Install
=======
1. Extract the files to a temporary location.
2. Examine the folder structure and make corrections where necessary.
3. Copy files to (install folder)Fallout3Data
4. Start FOMM and place a checkmark beside the .esp file.
Uninstall
=========
1. Start FOMM,uncheck the .esp file.
2. Delete the files/folders associated with the mod.

Fallout3DataMeshesArmorRobot
Fallout3DataTexturesArmorRobot

Incompatibility
===============
Full compatibility with all other mod's
Known Issues or Bugs
====================
none

Contact
=======
You can find me on fallout3nexus as CrushOverwrite
Credits
=======
-iWaNN- - model ant textures author

http://iwann.ucoz.ru/index/0-1 - official author site

-mel_danes-

http://utforums.epicgames.com/showthread.php?t=684098

-BuSyMan-

Terminator T800 model and textures

http://utforums.epicgames.com/showthread.php?t=608358

Thanks to Bethesda for creating Fallout3.
Thanks to fallout3nexus.com for the a one-stop-shop resource for authors and players.
Thanks to LHammonds for the Readme Generator this file was based on.
Tools Used
==========
3D Studio Max - http://www.autodesk.com/3dsmax
CrazyBump - http://www.crazybump.com
NIFSkope - http://niftools.sourceforge.net/wiki/NifSkope
Photoshop - http://www.adobe.com/products/photoshop/
GECK Construction Set
Readme Generator - http://lhammonds.game-host.org/obmm/tools_readme_generator1.asp
Licensing/Legal
===============
You must contact me and obtain my permission before re-packaging any part of this mod. If I do not respond within 2 weeks, feel free to do whatever you like with this mod.