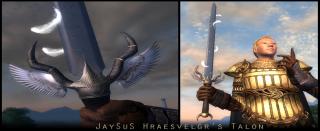 Views: 747
1.0
Jaysus
JaySuS Hraesvelgr's Talon V1.0

---------------------
adds a new sword in a grotto near the shrine of azura

a message
a journey
a fight
a treasure
all in one!
---------------------

installation:
extract everything in your ..Oblivion/Data/ directory
---------------------

deinstallation:
lol as if i would have intended that... no! i dont know how!
---------------------

usage:
attention eventual spoiler:
travel to bruma and take a room at olav's
---------------------

info:
Hraevelgr bored by the day and night long wind making decided
it would be time to have some fun and blessed a sword he commissioned from the dwarves
with all his might... apart from its pretty looks this made it pretty nasty if faced
or incredibly reliable if used by once own. But as he doesnt like other peoples magic
he made the sword in a way that it would loose its might if enchanted by someone else...
(to make it clear: dont enchant it!!! youll loose the particle effect or keep it forever
depending if you have the sword sheathed or not during enchanting and youll also loose the
abilities - i could have prevented that if i would have enchanted it but that destroys the look
imo and is not necessary anyway)

Hraevelgr originally is a giant in norse mythology who has wings which he uses to create the wind...

This sword exceeds the usual amount of polygons per model of 1k by 3 times at least!!!
it also uses two textures instead of one!!! Be aware this might have an impact on performance
though i didnt notice any on my kinda old mashine...

you can use that mod as usual wherever you like and even
modify it but always name the "mighty jaysus" in your
readme and wherever else you put credits

if you are aiming for commercial use plz get in contact with me first
and keep in mind i sue for plagiarism
-----------------------

changelog:
n/a
------------------------

have fun and enjoy :)
------------------------
general safety issues

this mod might kill you, your loved ones or the whole world! i take no responsibility for
any action done or any event happening as a result of playing this or any other of my mods.
it includes gore, probably but not necessarily boobs, brutality and sheer beauty... if you dont
like any of these avoid this mod.