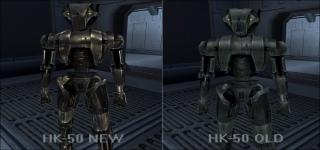 Views: 1,504
1.0
Space Alex
============================================================
KNIGHTS OF THE OLD REPUBLIC II - The Sith Lords MODIFICATION
============================================================

AUTHOR: SpaceAlex

EMAIL: spacealex@msn.com

NAME: HK-50 & HK-51 Reskin

CREDITS: Obsidian Entertainment for Kotor II, Fred Tetra for KOTRO Tool, tk102 for KOTOR Savegame Editor.

FILENAME: HK50_HK51_Reskin.zip

FILE SIZE: 1.11 mb zipped, 2.80 mb extracted

DATE RELEASED: February 22, 2008

DESCRIPTION: Not much to say here. Just a simple HK-50 and HK-51 reskin, which makes the infamous droids look shinier and less worn-out.

Supposedly, most of them just came fresh out of the factory, so it makes sense.

INSTALLATION INSTRUCTIONS: Unzip, run the installer (TSLPatcher.exe), follow the instructions on the screen.

UNINSTALLATION INSTRUCTIONS: Delete C_HK50.tga, C_HK50.txi, C_HK51.tga, and C_HK51.txi from KOTOR II Override folder. The TSLPatcher also modifies two entries in appearance.2da, but it is unnecessary to change those back to default values in order to get the old skins to display properly.

COMMENTS: I've originally released the HK-50 Reskin back in 2005 - however, since it is no longer possible to download the mod from the original link, and because some people have requested it to be released again, I have decided to re-upload it to KOTOR Files. As a bonus, I threw in an HK-51 reskin, which is nothing more than a modification of my HK-50 skin. I personally think it makes sense for HK-51's to look similar to HK-50's.

If you do not agree with me, you can always delete the HK-51 skin from your Override folder (be warned that HK-51's will look older than HK-50's if you do this).

BUGS: None that I know.

PERMISSIONS: As long as you give me proper credit, you may do whatever you wish with this mod - no permission from me is required.

THIS MODIFICATION IS PROVIDED AS-IS AND IS NOT SUPPORTED BY BIOWARE/OBSIDIAN ENTERTAINMENT OR LUCASARTS OR ANY LICENSERS/SPONSORS OF THE MENTIONED COMPANIES.
USE OF THIS FILE IS AT YOUR OWN RISK AND THE ABOVE MENTIONED COMPANIES OR THE AUTHOR IS NOT RESPONSIBLE FOR ANY DAMAGE CAUSED TO YOUR COMPUTER FOR THE USAGE OF THIS FILE.