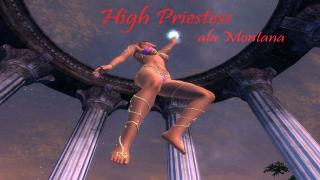 Views: 3,621
1.0
Montana
High Priestess for HGEC Fighter D-Cup


A set of light armor, inspired by fantasy artwork, that I envision being used by a priestess or sorceress (magic user).


Installation:
Extract the contents of the archive to your Oblivion data folder. Activate "High Priestess" esp.

Usage:
Upon starting your game after having activated "High Priestess" you will automatically be given a set of the armor.
To obtain additional sets, open the console and type "startquest aaa1highpriestessquest" without the qoutes.

Bugs/Conflicts:
The poly count on this is fairly high.
Depending on your computer and the complexity of the scene you are generating, it may cause lag.

The pantie line looks best with a shaved body texture in my opinion.

Credits:
Textures - Growlf
Testing and technical advice - GM58
Raiir & MadCat for the HGEC Fighter body
Meshes - Montana
Misc art - Montana

Legal:
All rights to my intellectual property are retained by me.

You may not republish or redistribute my work without my express permission.

Please do not host my work on other sites. It makes it impossible for me to have control over my work.

Feel free to make modifications for your own personal use.


A Word from Montana:

"What I actually am, Mr. Rearden, is a policeman. It is a policemans duty to protect men from criminals – criminals being those who seize wealth by force. ... But when robbery becomes the purpose of the law...then it is an outlaw who has to become a policeman."

- Ragnar Danneskjöld from Atlas Shrugged by Ayn Rand