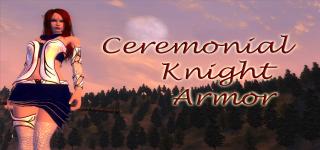 Views: 2,799
1.0a
Alecu aka Cold Blood
Name: HGEC Ceremonial Knight Armor
Version: 1.0a
Date: 7/11/2010
Category: Weapons and Armor
Requirements: Oblivion Patch 1.2.0.416, Player-Created MOD(s): ???
Author(s): Alecu Aka Cold Blood

Description
===========
A simple,unique and stylish female knight armor
Location
========
In a mysterious chest near the Bravil north gate,inside the city.See the screenshots for more info.
Details
=======
I couldn't find of my tastes and I was bored of the standard stuff, so instead of waiting I decided to make my own armor. This is the final result.

Please remember that this is actually my first mod ever. I don't care about endorsements but what I do
care about is seeing many people enjoying the armor so a simple thanks or a screenshot would be greatly appreciated.
Install
=======
1. Extract the files to a temporary location.
2. Examine the folder structure and make corrections where necessary.
3. Copy files to (install folder)Oblivion/Data
4. Start Oblivion Launcher, click Data Files, place a checkmark beside the .esp file(s).

Known Issues or Bugs
====================
Probably several. The armor seems solid but deforms with the body,this can never be fixed. Minor clipping issues here and there and the stockings textures don't look that good.
History
=======
1.0a Some minor issues still left. Waiting for people to identify them.
Contact
=======
Tesnexus id: Alecu
ElderScrolls forums: Cold Blood
TesEyeCandy: Alecu
Email: lui_alecu@yahoo.co.uk

Credits
=======
Thanks to Bethesda for creating Oblivion.
Thanks to TESNexus.com for the a one-stop-shop resource for authors and players.
Thanks to LHammonds for the Readme Generator this file was based on.
Thanks to TesEyeCandy.co.uk for all the tutorials and information.
Thanks to people that created the miracle program that is called Blender.
Thanks to myself for making this armor :P.
Thanks to ~Enchantedgal-Stock at deviantart for the stockings texture
Tools Used
==========
Blender - http://www.tesnexus.com/downloads/file.php?id=12248
NIFSkope - http://niftools.sourceforge.net/wiki/NifSkope
Photoshop - http://www.adobe.com/products/photoshop/
Readme Generator - http://lhammonds.game-host.org/obmm/tools_readme_generator1.asp

Licensing/Legal
===============
You have permission for public mods that can be found and downloaded by anyone or for strictly private use limited to yourself.

Under no circumstances do I agree with any parts of my mods being used for private releases or limited releases.
I don't want to be responsible, even indirectly, for other people wasting hours at a time, desperately searching
for a mod that might not even exist on the internet.