A Halo Movie?.... In England?...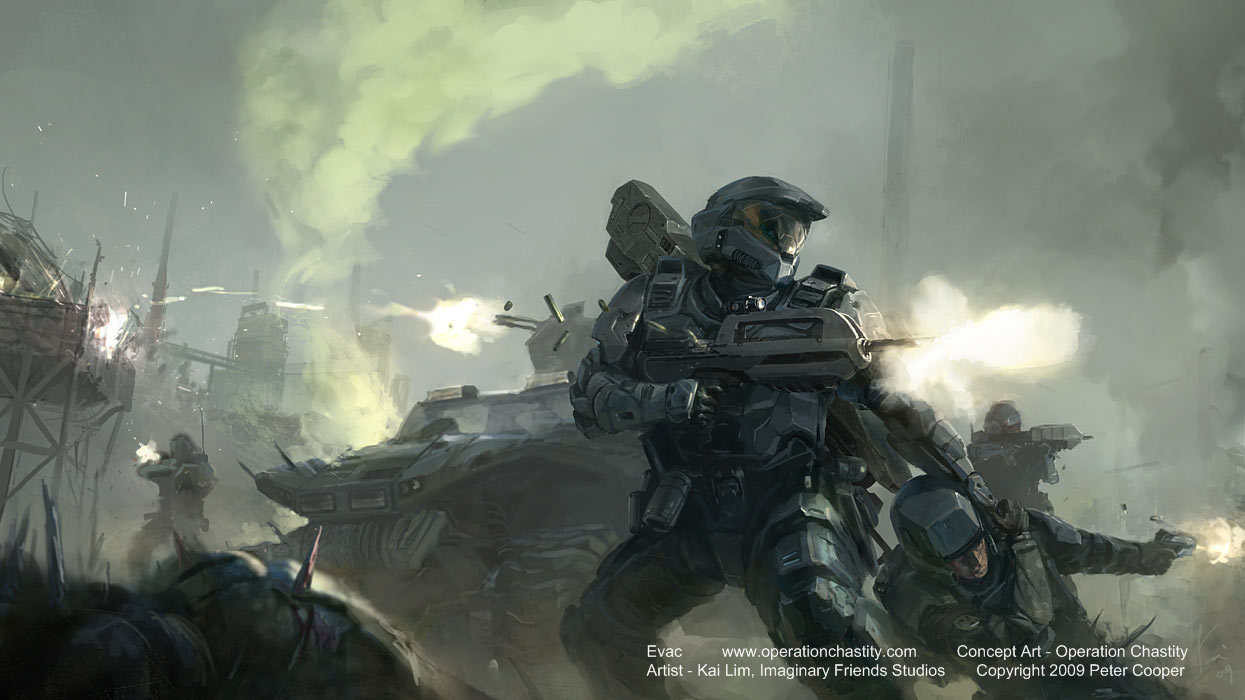 Now, to the gaming community when the word "movie" is added onto a game. this noramlly means that there will be a 30 year old pervert making a movie about a game which he does not even know about, some examples of this are the resident evil movies and the silent hill movie which are both completly off track compared to the original games. there are also some other silly movies coming out soon as well like a "gears of war" movie, yeah, i am sure that will be good, just 2 hours of some bulky retards cutting aliens (which possably could be humans but they dont give a s**t) in half with a silly chainsaw which has no proper story line.

but now there is a halo movie now currently being made called "Operation Chastity" and before people start jumping up an down on their chairs, there are some things people must know first. like this is not the first halo movie in poduction. there have seen several attemps at it in the past but each time they have failed. one attemt in the past was from the director of "district 9" which he was working on before district 9 but yet found it extreamly difficult to base a movie of a man with no face so eventully he scrapped the idea and went onto district 9 which is apparently simular to the movie he was planning with the sort of documentory style which also modern halo games like ODST and halo reach has also taken on partually. there has also been some ideas about one from steven spielberg, but yet this was very quickly scrapped because his movies in recent years have been terrable, indiana jones 4 is a clear example of this (which he basicly make indiana bend over backwards and suck is small "green bean string").

Operation Chastity is very diffenent to these movies though, operation chastity (which i will now shorten down to "OC" from now on) is being made by a brittsh halo fan on a very small budget (£30,000 to start with) and it is not filmed in sunny america, instead ts being set in the exotic destination of southen england. the movie then clearly has some very clear problems of money and location, like they will be unable to have large areas like in the games, instead they will probly have a farmers field for the day rather then massive expanding deserts and huge pine forests like which people normally see in the games (but yet if they want a ruined city scene, just come to the outerskirt of manchester, pleanty of distroyed buildings here, and also local wildlife as the form of chavs, be warned though, they bite).

even though they have some problems, the movie so far is coming along nicely, they have made a fully working warthog out of a old scrapped land rover, making cool looking weapons out of plastic and cardboard and the actors of local halo fans. they have a large intrest in the movie currently and are focusing on specal effects currently. but before you all start to think microsoft will be getting money from these people, the movie has no connections to 343 industries or bungie, meaning the movie is completly independent. and to make things even better, they are planning of releasing the movie online for the grand total of.... nothing!, thats right, FREE! no charge at all. this is so they keep in the 343 industries copyright of halo, because the copyright says that people are allowed to make halo material (artwork, models, music ect..) so long as they are not making a profit from it, but yet they are doing this because they are all big halo fans and are not doing this for money, but for halo fans to enjoy another slice of halo.

the background story of "OC" is a platoon of Recon Marines of the 267th Marine Regiment which operates in Argentina within a UNSC cordon which they set up base around the wreckage of the CCS-class battlecruiser "Chaste Ascendancy" following its crash-landing on Earth. Operation Chastity is their last mission in a forgotten part of the Human-Covenant War. from according to the offical website of "OC" there will be normal marines, ODSTs, Spartans, and alot of CGI (to try and help with their lack of money and area) but yet people from all around the world are helping with the production of the halo movie and its producer (Peter Cooper, a British Halo fan and first-time film maker) the movie so far hears promising, with filming already started in spring 2010, which the movie is apparently going to be like a mix of the Band of Brothers, Generation Kill, The Hurt Locker and District 9 movies all in one.

from what i have heared from the production of the movie, it is going to be a alright movie, and even if it is not going to be a shining star, people should not moan, like remember, its going to be free, but yet this is something i am looking forward to as a halo fan, and even though its not being filmed in the best area possable, i still find it as a neat thing its being filmed in england and its not like a silly holywood movie.

"OC" is currently looking for donations, a donation of any size will be good for the team currently working on the movie, and just to say, all money donated will go towards the movie, and not the personel working on the movie, every penny will go towards making the movie, here is a link to the offical donating page...

http://operationchastity.com/launch/ind ... Itemid=432

... remember, a donation of any size is welcome. also here is a link to the home page of the offical website of operation chastity...

http://operationchastity.com/launch/

... also, here is a link to some recent news of "OC" as well if anyone is intrested in reading...

http://operationchastity.com/launch/images/lrohalo.pdf

thanks for reading everyone, this team needs as much help as we can give them, and it is good to see a game movie being made by a fan for once, and not a money hungry old guy like spielberg...

1.0

Posts: 737
Location: Manchester, United Kingdom
Uploads: 3
Kudos: 11
Motherboard: Asus p9 x79 pro
CPU: Intel I7 4GHz
GPU: ATI Radeon Hd 7950
RAM: 16GB
Storage Space: 10TB
---
Re: A Halo Movie?.... In England?...
LOOOL at Chavs biting!

Good post man i like it!
I hope it gets pulled off!
Please remember to comment, it helps the modding community.
1.0

Posts: 759
Location: UK, Wales
Uploads: 50
Kudos: 39
Motherboard: Asus Z87K
CPU: Intel quad core i7
GPU: GeForce GTX 660
RAM: 8gig
Storage Space: 1.5 terabytes
Sound Card: Fatal1ty pro
Case: corsair 500d
---