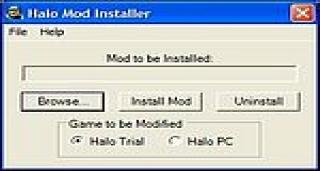 Views: 870
1.0
Iron Arab
Halo Mod Installer
by Iron Arab


IMPORTANT: IN ORDER FOR THIS INSTALLER TO RUN ON YOUR PC, YOU MUST INSTALL
MICROSOFT .NET FRAMEWORK SDK 2.0, A LINK IS PROVIDED BELOW

http://www.microsoft.com/downloads/details.aspx?FamilyID=FE6F2099-B7B4-4F47-A244-C96D69C35DEC&displaylang=en

IF FOR ANY REASON THE ABOVE FRAMEWORK IS NOT COMPATIBLE WITH YOUR PC, OR THE
LINK IS BROKEN, YOU CAN GO TO MICROSOFT.COM AND SEARCH MICROSOFT .NET FRAMEWORK
SDK 2.0 TO FIND IT
Description:
This installer installs Halo Trial and Halo PC mods. This is the first release
of my Mod Installer so it is only capable of installing mods that are modified
versions of the bloodgulch.map file. For you noobs that means that if the mod
you extracted out of the .zip or .rar file isn't called bloodgulch.map,
then you will not be able to use this installer.
How to Use:
This installer is pretty self-explanatory. Clicking the Browse button allows
you to choose a mod file to install into your game. After you have chosen a
file, simply click the install button, and it will automatically make a backup
of your original bloodgulch.map file, and install the modded file. If you wish
to return your game to normal, simply click the uninstall button, and the modded
file will be deleted, and the original file will be restored.