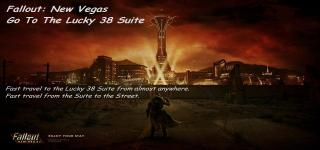 Views: 2,566
2012.09.03
drake elvin
FALLOUT: NEW VEGAS
GO TO THE LUCKY 38 SUITE

By drakeelvin [at] yahoo [dot] com
version 2012.09.03


Fast travel into the Lucky 38 Suite from almost anywhere

Fast travel from the Suite to the Street.

Optional Suite crafting upgrades. This is not a cheat.

Most normal fast travel restrictions apply. The Long Haul perk works if you are overloaded. You can travel into the Suite from most inside areas of the Lucky 38.

The plugin is simple to use, just load it and play. Getting and using the Suite Travel item is explained by a quest. The item uses Addon Slot 3 and is invisible so it wont clash with standard gear. You can even hotkey the item.

If you use the Suite upgrades, you get the following:


A reloading bench is added to the kitchen, beside the work bench.

One of the kitchen ovens now lets you cook campfire recipes.

The kitchen sink now works and provides purified drinking water.
This makes the Lucky 38 kitchen a complete crafting area.


Installation
Requires Fallout: New Vegas 1.4 or Ultimate Edition

There are two folders with different plugin versions:

One plugin has only the travel item. The other plugin has the travel item and Suite upgrades. Both plugins have the same name, so you can upgrade existing games by overwriting the old one.

Copy the plugin of your choice to your New Vegas data folder and enable it.


History
2012.02.19 - Original version.

2012.03.22 - Fixed intermittent problem with item hotkey not working.
2012.03.22 - Player now enters Suite directly in front of elevator.
2012.03.22 - Tidied up quest objectives.

2012.08.30 - Added optional esp with Suite crafting upgrades.
2012.09.03 - Silenced the auto-unequip message so it's easier to read the content message.