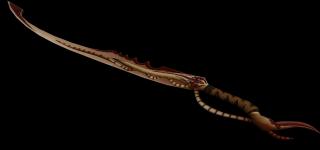 Views: 1,297
1.0
Gizmodian
Blade Set 01
============

By Gizmodian

============

Description:
============

A set of five new blades and one offhand. One claymore, two longblades, one dagger,and a drow-style punch blade with matching offhand.


Installation:
=============

Either manually install by unzipping directly into your Oblivion/Data folder. If prompted to overwrite, select 'yes'.

Or make it into an OMOD using OBMM.

There are instructions in many places on the internet on how this is accomplished.


The default mod contains 1024 size textures. There is an alternate folder marked with the 2048 sized textures, however. These double the size and are much higher resolution, giving you a better looking sword. If you wish to use these instead, install the 'textures' folder underneath your 'Data' folder, after you install the mod. Select 'yes' when prompted to overwrite.

***THERE ARE TWO ESPS IN THE ARCHIVE. ONE LABELED NEH FOR NEHRIM. THE OTHER OB FOR OBLIVION. +USE ONLY ONE OF THEM+.


Location:
=========

NEHRIM: Found in the Erothin Tavern along the rightside wall as you walk into the door, near the stairs. Found in a small chest on the counter. It can be missed, so look near the shelves.

OBLIVION: Arcane University grounds in a chest on the circular wall. Can't miss it.


Uninstallation:
===============

Delete the files or remove the OMOD.


Additional Info:
================

The textures come in two sizes, normal, which is a 1024px square, and high-resolution, which is 2048. Double the size. It will impact lower computers, but the visual clarity is much better.


Programs Used:
==============

3DSmax9
Adobe Photoshop CS3
Nifskope


Credits:
========

Bethesda
Jexsam


Usage and Permissions:
======================

This is an open-source resource, you cannot claim it as your own. You may use any part of the meshes or textures, however, you must credit me.