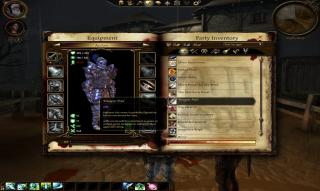 Views: 4,860
1.2
hdhd
Name: Gift Guide - Awakening
Version: 1.2
Date: 3/24/2010
Category: Companions
Author: hdhd
Source: http://modsreloaded.com/gift-guide-awakening
Description
===========
This mod adds the companion's name to the gift descriptions of The Stone Prisoner, Return to Ostagar and Dragon Age: Awakening. I recommend downloading (if you haven't already) Madd Gift Guide (http://www.dragonagenexus.com/downloads/file.php?id=385). With both mods installed every gift should have the companion's name in the description.
Details
=======
The Stone Prisoner
Oghren:
Wilhelm's Special Brew

Shale:
Remarkable Amethyst
Remarkable Diamond
Remarkable Emerald
Remarkable Garnet
Remarkable Greenstone
Remarkable Malachite
Remarkable Ruby
Remarkable Sapphire
Remarkable Topaz
Return to Ostagar
Alistair:
Joining Chalice
Dragon Age: Awakening
Anders:
Knitted Scarf
Gold Earring
Engraved Silver Bracers
Bell Collar
Phylacteries: A History Written in Blood
Kitten
Justice:
Lyrium: The Voice of the Maker
Kristoff's Locket
Verses of Dreams
Kristoff's Mementos
Elven Prayer for the Dead
Lyrium Ring

Nathaniel:
Delilah Howe's Letters
Locksmith's Tools
Bronze Sextant
Golden Vase
Whetstone
Howe Bow

Oghren:
Mackay's Epic Single Malt
"Dragon Piss"
Hirol's Lava Burst
West Hill Brandy
Aqua Magus
Toy Horse

Sigrun:
Snow Globe
Toy Chariot
Potted Plant
The Warrior's Heart
Soap on a Rope
Spyglass

Velanna:
Discarded Journal
Shiny Malachite
Ornate Silver Bowl
Elven Runestone
Elven Trinket
Carven Greenstone
Blank Journal

Installation
============
1. Copy the uti files to "My DocumentsBioWareDragon Agepackagescoreoverride"
History
=======
1.2, 2010/03/24 - Added Joining Chalice
1.1, 2010/03/23 - Added Elven Trinket (+fix to Cost and InvSubgroup)
1.0, 2010/03/18 - Initial release.

Contact
=======
You can find me on DragonAgeNexus as 'hdhd'
Credits
=======
Thanks to Bioware for creating Dragon Age: Origins.
Thanks to dragonagenexus.com for the a one-stop-shop resource for authors and players.
Thanks to LHammonds for the Readme Generator this file was based on.
Tools Used
==========
Dragon Age Toolset - http://dragonage.bioware.com/toolset/
Readme Generator - http://lhammonds.game-host.org/obmm/tools_readme_generator1.asp