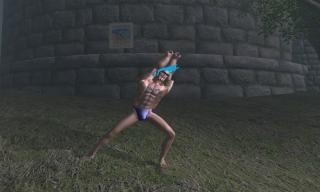 Views: 3,178
0.8
Rebel O Conner
Name: Franky cosplay
Version: 0.8
Date: 9/6/2010
Category: Items, Objects and Clothes
Author: Rebel O'Conner


Description
===========
Play as Franky, the crazy cyborg from One Piece.

Location
========
you can find the cosplay as a light armor in anvil exterior, in front of the way to go to the lighthouse. there's a wanted poster, click on it.

Details
=======
This is a beta version, i have to find how to change the size when wearing the armor ( Franky is tall, very tall).
the pose is not include, you must use Umpa pose mod( link in mirror). maybe i'll add the pose later.

Install
=======
1. Extract the files to a temporary location.
2. Examine the folder structure and make corrections where necessary.
3. Copy files to (install folder)OblivionData
4. Start Oblivion Launcher, click 'Data Files', place a checkmark beside the .esp file.

Uninstall
=========
1. Start Oblivion Launcher, click Data Files, uncheck the .esp file.
2. Delete the files/folders associated with the mod.

OblivionDataMeshesclothesrebelcosplay
OblivionDataTexturesclothesrebelcosplay
OblivionDataTexturesMenusIconsclothescosplay

History
=======
1.0, 2010/09/6 - Beta release.

Contact
=======

You can contact me at Tesnexus,Hall of Torque, mods reloaded, Gamevixen zone and CanadianIce forum as Rebel O conner.

Credits
========
the mesh is based on Robert male bodies
some textures based on texture by HoboBo (Bo Hammarberg) : www.sharecg.com/pf/hobobo?division_id=6
Thanks to LHammonds for the Readme Generator this file was based on.
Great thanks to Oda Eichiro for this amazing manga

Tools Used
==========
7-Zip - http://www.tesnexus.com/downloads/file.php?id=15579
Blender - http://www.tesnexus.com/downloads/file.php?id=12248
NIFSkope - http://niftools.sourceforge.net/wiki/NifSkope
Paint.NET - http://www.tesnexus.com/downloads/file.php?id=11909
Readme Generator - http://lhammonds.game-host.org/obmm/tools_readme_generator1.asp

Licensing/Legal
===============
You can do whatever you want with this mod but all I ask in return is that
you give me credit if you distribute any part of this mod. I would also like
to know what mods are including my work.