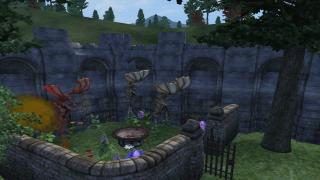 Views: 1,130
1.0
PR0 6AM3R
Name: Forbidden Lands
Version: 1.0
Date: 1/14/2009
Category: Miscellaneous
Requirements: Oblivion Patch 1.2.0.214
Author(s): PR0 6AM3R
Source: http://www.tesnexus.com/downloads/file.php?id=21955
Forum: http://www.bethsoft.com/bgsforums/index.php?showtopic=941539

========
Contents
========

1. Description
2. Details
3. Install
4. Uninstall
5. Upgrade
6. Incompatibility
7. Known Issues or Bugs
8. History
9. Contact
10. Credits

===========
Description
===========
Have you ever been stuck in a treasury with the tough decision on which loot to leave behind? Have you ever dreaded the long, harsh walk back to civilization just to sell your trinkets for what little money you can get? Do you ever wonder why there isn't a nice, calm and relaxed place for the strongest of Cyrodiil to go to? If you've answered yes to any of those questions then Forbidden Lands is just the mod for you! It introduces you (should you be strong and brave enough) to the most secluded place in all the lands, accessable only to the finest that Cyrodiil has to offer. Enjoy a nice relaxing swim under the stars with the fish, pray to the gods in a beautiful garden or simply go train even more in the blood soaked training room. Whatever you desire we aspire to make it a reality!

=======
Details
=======
This mod aims to simply give the player a new place to go relax, resupply and recover from any of their ventures in the harsh world. It also acts as a quick escape should any battles take a drastic turn for the worst. You must be atleast level 20 to be granted the ability to prove yourself in order to gain access to the lands.

=======
Install
=======
1. Extract the files to a temporary location.
2. Examine the folder structure and make corrections where necessary.
3. Copy files to (install folder)\Oblivion\Data\
4. Start Oblivion Launcher, click 'Data Files', place a checkmark beside the ForbiddenLands.esp file(s). If using a different mod management utility simply place a checkmark beside ForbiddenLands.esp.

=========
Uninstall
=========
1. Launch Oblivion and exit the area to a place outside of this mod. Once you are outside of the modded environment save the game and exit Oblivion.
2. Start Oblivion Launcher, click Data Files, uncheck the .esp file(s). If using a different mod management utility simply remove the checkmark beside ForbiddenLands.esp.
3. Delete the files/folders associated with the mod

=======
Upgrade
=======
1. Uninstall the old mod.
2. Install the new mod.
3. Start Oblivion and play. There is no effect on saved games and cannot
corrupt any saves. (Hopefully)

===============
Incompatibility
===============
This mod should be completely compatible with any other mod you use. However if you are using a mod which edits the same cell as this one in the EmptyWorld Worldspace then there will naturely be conflicts.

====================
Known Issues or Bugs
====================
None that I'm aware of. If you find any feel free to contact me on the Bethsoft (aka Bethesda) forums and I'll fix it as soon as I can.

=======
History
=======
1.0, 2009/1/15 - Initial release. Hope you enjoy. :)

=======
Contact
=======
You can find me on the BethSoft (aka Bethesda) forums under the username "pr0 6am3r". Aswell as that you can e-mail me at pr0_6am3r@hotmail.com if it is urgent.

=======
Credits
=======
Thanks to Bethesda for making such a fantastic game.

A big thanks goes out to the Bethesda Forums community. Without these gals/guys this mod would never have been able to be released.

Thanks to LHammonds for the fantastic ReadMe Generator.

...And everyone else who helped in any way at all.

==========
Tools Used
==========
7-Zip - http://www.tesnexus.com/downloads/file.php?id=15579
TES Construction Set - http://www.tesnexus.com/downloads/file.php?id=11367
Readme Generator - http://lhammonds.game-host.org/obmm/tools_readme_generator1.asp

===============
Licensing/Legal
===============
Feel free to edit, merge, redistribute (for free), reupload, eat, etc wherever you wish. All I expect in return is credit where credit is due, this being stated in the ReadMe and possibly description. Also it would be nice (not needed though) if you PMed me on the Bethsoft Forums if you do re-upload it (whether it be as part of a big mod, be a fix, etc). This mod is not to be sold in any form under any circumstances, ever.