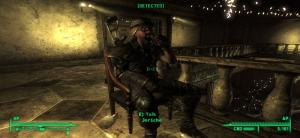 Views: 1,101
1.0
jansonmercenary
Name: Followers Relax
Version: 1.0
Date: Jan/02/2009
Category: Companions
Author: JansonMercenary


Description
This is a very simple mod that changes the default "Wait" AI package from "Guard" to "Sandbox". So when you instruct your vanilla followers to wait for you, they will move about the area within a 1000 unit radius and interact with the environment -- instead of simply standing in one spot. This is an aesthetic mod meant to give your vanilla companions a bit more life.


Inspiration
This mod was inspired by Tchos's Vault 101 Sealed Wing building mod, in which you're given a Vault-inspired living space; and it included interaction markers for your follower NPCs. However, with the current follower set-up, your companions simply stand around instead of relaxing and "enjoying" the amenities around them. A console command exists that temporarily activates "Sandbox mode" in NPCs, but it's very inconvenient to micromanage, and it wears off very quickly. Now wherever you are, whether it's in Tchos's Vault, the Muddy River, or Moriarty's, your companions will settle in and mingle while they wait for you to do whatever you need to do alone.


Key Features
* Allows your companions to roam and interact with the environment when you tell them to "wait".
* Companions will roam, sit, respond to conversation, eat and drink (if given food and/or drink), and use things like consoles.
* This applies to Clover, Charon, Jericho, Butch, Cross, and Fawkes. Dogmeat and RL-3 are unchanged, and will obediently remain where you tell them to wait.
* Companions will "relax" in any location, including camps if you have the appropriate mods.
* Companions are still combat-ready, and will jump to your aid or dispatch any enemies that are detected by them.
* Save game-friendly in both installation and un-installation.
* ONLY WORKS WITH THE VANILLA FOLLOWERS REGARDED ABOVE. EXTRA COMPANIONS ARE CURRENTLY *NOT* SUPPORTED.


Compatibility
This mod should be compatible with any mod that doesn't directly modify the "FollowPlayerWait" package of the vanilla followers. Should be compatible with most companion mods, including mods that allow for more than one companion, mods that skip karma checks, and mods that add more companions to select from (Such as the popular Bittercup Companion mod).


Known Issues
* Even though your companions will eat and drink, it seems to happen at random, and doesn't happen very often.
* Companions have the tendency to roam if told to wait in large open spaces. Though, they usually don't go very far. They should stay in perception range.
* In crowded areas, it might be a minor annoyance to "hunt" for your companions.
* In tactical situations, it becomes impossible to command your vanilla companions to hold in one spot. This should be rectified in future versions.


Installation
Extract the FollowersRelax.esp file into your Fallout 3 Data folder. Activate the mod with either the default launcher or the Fallout Mod Manager. Load order should not matter. The "relaxation" effect is applied immediately, even if your companions are already in wait mode when you load your saved game.



Un-Installation
Simply delete the FollowersRelax.esp file from your Fallout 3 Data folder. It's save game-friendly.

NOTE: Companions may become semi-stuck in furniture if you remove the mod and load a game where your companions are "relaxing". Asking them to follow you and loading into a new area, fast-traveling, or using the wait command (default button is "T") should resolve this issue.




History
1.0: 2008/Jan/02 | Initial release.


Future Features
* A "radio" inventory item that allows the player to quickly command companions as a group or individually without needing to "talk" to Vanilla companions, or locate them if you lose track. Imagine walking into a location, and with two clicks, you can tell your entire group to "take a break" or recall them back into follow mode.
* Added options to "Wait" (default stand-here command), "Guard Area" (draw weapons and pace the area in an alerted state), and "Relax" (sandbox mode wait command).


Contact
e-mail: homeone [at] hotmail [dot] com


Tools Used
Bethesda's G.E.C.K.


Special Thanks
Tchos and his "Tchos Vault 101 Sealed Wing" mod, which inspired me to throw together and upload this highly demanded feature.


Licensing
This mod is incredibly simple. This is something that most users can do themselves quickly if they knew what to look for. With version 1.0, you're free to use it in any way, or re-distribute it however you please.