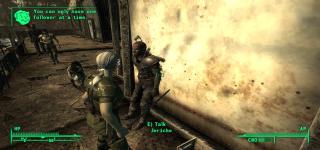 Views: 3,322
0.7
Jalor
This mod for the Fallout 3 game allows you to recruit more followers based on your charisma level also making the statistic more useful.

This module is useful in the recruitment team to skip when karma and followers count check.

The module does not remove the property of karma or followers count, but will skip the check. It does not affect the game's other processes(like Cross bug,companion's reject etc.).

------------------------------
2008-12-17 add new file :
FollowersHire_ByCharisma.esp
FollowersHire_ByCharisma_NoKarma.esp

Limit the followers count with the Charisma.
When the Charisma less will receive the message of similar "You can only have one follower at a time.".

Charisma : 2 4 6 7 8 9 10
followers : 1 2 3 4 5 6 7
(dogmeat forever)

NOTE: If you use control command to change the Charisma,please wait a short while to try again(random move or looks into the equipment etc.This is the reason of the game engine.)
------------------------------
2008-11-23 add new file :
FollowersHire_SkipCount.esp

The module just sikp the followers count check.

------------------------------

NOTE: The four modules can't come into effect at the same time, Select the one you need.

------------------------------
Installation:

1. Extract .esp to the Data folder in your installation directory.
2. Open up FALLOUT.ini in My Documents\My Games\Fallout 3 with Notepad or other text editor and locate the following line "bInvalidateOlderFiles=0" and set it to 1.
3. Make sure the timestamp on the .esp is more recent than your FO3 installation.
4. If you cannot get the checkmarks to stick in Data Files in the FO3 launcher, locate the following file:

XP: Documents and Settings\[username]\Local Settings\Application Data\Fallout3\plugins.txt
Vista: Users\[username]\AppData\Local\Fallout3\plugins.txt

(The folders might be hidden, so enable "Show hidden files" in your Windows settings.)

If the line "FollowersHire.esp" does not appear, add it *after* "Fallout3.esm", without quotes and on a separate line.

5. Enjoy it.

------------------------------

Uninstallation:

Delete FollowersHire.esp from your Data folder.