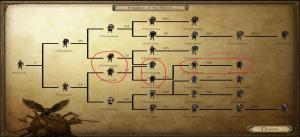 Views: 799
2.51
Kinsume
Floris 2.5 Expanded Version mini-mod
This is a mini-mod of sorts that will only affect the Floris Expanded Mod 2.5 with the Expanded Troop Tree. It does several key things to help balance the mod and improve the gameplay. Note that this mod may or may not be incorporated into the main game, these are simply changes I will be making, and things I will be adding in order to improve the gameplay.


Version 1.1 Changes
Increase weekly wages for troops by 50%

Change Persuasion skill to Charisma based

Change Looting to a Personal skill

Make Looting directly affect the random loot gained after a battle

Change Shield to Strength Based

Buffing Tactics to 2 troop difference per 1 point in tactics

Nerfing max size of bandit parties

Make it so bandits can't recruit from prisoners

Increase max size of faction patrols

Ability to release Lords that are already prisoners when you talk to them in party menu

Adding new bandit upgrade paths

Adding higher tier bandits to bandit parties
Install Instructions
1.Download the file in that link
2.Unzip file with Winzip
3.Copy troops.txt and item_kinds1.txt into the mod
4.Play and enjoy
5.Ignore the .py files unless you already know what they're for


Compatability
Currently the game IS save game compatible, however if you have companions equipped with gear before adding the files/changes from this mod then it will remain equipped even if they don't have the required stats to use them. It is up to you whether you want to abuse this fact or properly equip them for their skill levels.