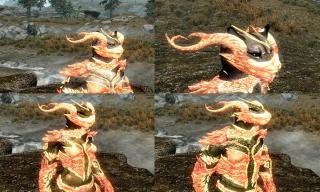 Views: 10,654
1.0
Rebel O Conner
Flame Atronach armor
This mod allows to craft a set of the armor flame atronachs wear.
This set is consist of a cuirass, a pair of long gloves, toes wear and a mask.
Crafting can be made with two materials. Iron atronach armors are less efficient but needs no perk to craft.
Daedric atronach armors need daedric smithing but give some powers:
Cuirass gives fire resistance 25% and burning cuirass gives also a harmless flaming effect ( but NPC tell the player it's dangerous)
Toes give waterwalking and burning toes burn the ground.
Mask gives 50 points of magicka and regenerate magicka faster.
Gloves fortify destruction and unarmed combat.

Despite this set gives powers, enchanting is still possible.
Daedric crafting require ebony ingots, fire salts and daedra heart. Iron crafting require iron and fire salts.


Installation
Unpack in a temporeary folder, and then cut/paste the data folder in your Skyrim folder.
Uninstallation: remove Mesh/Armor/Rebel/Atronach folder, Texture/armor/rebel/atronach folder and flame atronach armor.esp.

The armor is based on vanilla flame atronach, so feel free to use any of this models, as long you give proper credits.

Female body used is DIMONIZED UNP skinny female body by Dimon99 (http://skyrim.nexusmods.com/mods/6709 )

Male body is Robert male import from NV by Sundragon


Tools used
: Blender, Nifscope and the CK.