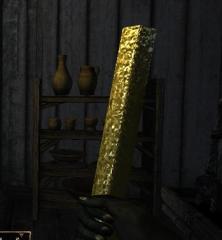 Views: 530
1.0
LHammonds
Name: FishyStick Resource
Version: 1.0
Date: 8/27/2007
Category: Modder's Resource / Weapon
Requirements: 7-Zip
Author: LHammonds
Source: TESNexus
File Mirror #1: RapidShare
File Mirror #2: FileFront
RELz Thread: The Elder Scrolls Forum
Description
This is a modder's resource. It was requested by Combat Chuck on 8/26/2007

It is a FishyStick as a weapon (dagger).

This does not include a .esp plugin to allow you to play it in-game (since I am on a PC without Oblivion)

Combat Chuck will make the plugin so keep your eyes out for it to be released later.
Details
This archive contains all the source files.

MeshesWeaponsFishyStickFishyStick.blend
MeshesWeaponsFishyStickFishyStick.nif
TexturesWeaponsFishyStickFishyStick.psd
TexturesWeaponsFishyStickFishyStick.dds
TexturesWeaponsFishyStickFishyStick_n.psd
TexturesWeaponsFishyStickFishyStick_n.dds
TexturesMenusIconsWeaponsFishyStickiconFishyStick.psd
TexturesMenusIconsWeaponsFishyStickiconFishyStick.dds
Incompatibility
None.
Known Issues or Bugs
None.
History
1.0, 2007/08/27 - Initial release.
Future
It is possible something doesn't look right in the game since this is my 2nd model I ever created and 1st weapon.
If anything is messed up, take a screenshot and let me know.
Contact
You can find me on the official Elder Scrolls forums as 'Conan_Lon'
You can find me on TESNexus as 'LHammonds'
Credits
Thanks to Bethesda for creating Oblivion.
Thanks to the folks who contribute to Blender and NifSkope projects.
Thanks to TESNexus for the a one-stop-shop resource for authors and players.
Thanks to God for creating us all.
Tools Used
a href="http://www.tesnexus.com/downloads/file.php?id=15579">7-Zip
DDS Converter
GIMP
NIFSkope
Readme Generator
Licensing/Legal
You can do whatever you want with this mod but don't complain to me if it doesn't work or your PC blows up.