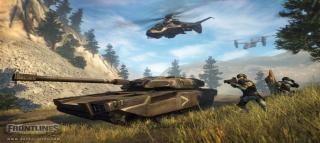 Views: 766
1.1.1
Unknown
This is a Frontlines trainer for the 1.1.1 version that offers you 9 options such as infinite health, infinite ammo, super accuracy, low gravity super jump and others.

If you are running Windows Vista, please make sure to run the trainer in administrator mode. Right click the trainer - Properties

- Compatability and choose to run it as administrator.

Please be careful of the modern firewalls, they now also have several protections against code injection which is needed for a trainer to work, make sure you disable it while playing or it could stop the trainer from running.
INGAME HOTKEYS:
# Hotkey Option

1 F1 Infinite Health

2 F2 One Hit Kill

3 F3 Super Speed

4 F4 Infinite Ammo

4 F7 Infinite Grenades

5 F5 Low Gravity Super Jump

6 F6 Super Accuracy

7 NUMPAD1 Save Position

7 Numpad2 Restore Position

8 F8 Slow Down Team/ Enemies

9 F9 Freeze Team/ Enemies

NUMPAD3 Restore Movement

TRAINER NOTES:
F1: Infinite Health

===================

Pressing this option will make you immortal to anything. You can't

be killed.

F2: One Hit Kill

================

This will give you the ability to kill everyone with just one hit.

F3: Super Speed

===============

Pressing this button will let you travel with the speed of light.

F4: Infinite Ammo

=================

This option will give you infinite ammo on all weapons.

F5: Low Gravity Super Jump

==========================

Pressing this button will give you the ability to jump incredible high. This is the real deal. We are not boosting the coordinates of the player. Neither are we using the hover variable to create this option. It's reversed the way it should be done.!!

F6: Super Accuracy

==================

Press this button to fire your weapons super accurate.



NUMPAD1: Save Position

======================

Press this button to save the player coords at any place in a level.

you can use this to restore them later.

NUMPAD2: Restore Position

=========================

Press this button and you will teleport back to your last saved

position. You can't teleport through loading screens.!

F7: Infinite Grenades

=====================

Press this button to get infinite grenades. You can throw as much

grenades as you want.

F8: Slow Down Team/ Enemies

===========================

Press this button to slow down everyone in the game.

F9: Freeze Team/ Enemies

========================

Press this button to stop everyone from moving in the game. Take

that you might stop events from happening aswell. When you have used

this button you can stop the movement cheats by pressing NUMPAD3. Take

note though that the enemies won't be moving until the game is relocating

it's memory. Every soldier/ class has it's own movement speed. So putting

back a standard speed value would increase certain soldier classes.

When you have the option disabled and the game relocates it's memory

you will see everyone walking normal again.


INSTALLATION NOTES:



1. Unpack the release with WinRAR or equivalent

2. Run the trainer from the desktop or place trainer in game dir

3. You can choose to start the game first or you can press Run

game button and follow the steps on the screen.

4. Toggle desired Options on/off