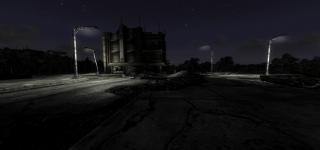 Views: 2,469
1.3
willemjd
Was playing with the "Fallout Street Lights" mod and was starting to miss the lighting during those long black nights (Fellout) in the wasteland. As the orginial mod was not updated for several months I started to do this myself as an add-on for the original mod.

To preserve the "wasteland feeling" I started out with the locations where people are living (They would want lights in those dark nights to see it coming) and locations where power is expected to still work like factories. Have only used existing object for the moment.

I want to thank SpeedyB64 and RW2112 for the idea and the initial work done to make this possible.


==========[Installation]==========
Copy the "streetlights - wateland.esp" file to the Fallout/Data directory.
The mod must be loaded after the original one in the following order:

StreetLights.esm
StreetLights - Wasteland.esp

Taken from the original mod:

Also these are the settings that control light distance in fallout, setting these high (like they are here) will make the mod look even better, but it will cost performance.

set your lighting to these settings (in the fallout.ini) for awesomeness:
fLightLODDefaultStartFade=10240.0
fLightLODRange=10240.0
fLightLODMinStartFade=10240.0
fLightLODMaxStartFade=10240.0
fShadowLODDefaultStartFade=200.0
fShadowLODRange=200.0
fShadowLODMinStartFade=100.0
fShadowLODMaxStartFade=1000.0
fSpecularLODDefaultStartFade=102400.0
fSpecularLODRange=10240.0
fSpecularLODMinStartFade=10240.0
fSpecularLODMaxStartFade=10240.0

The fallout.ini is located in:
My Documentsmy gamesfallout3


==========[Version History]==========

Version 1.0 (Initial Version)
Activated the street lights in the following locations:
- Andale
- Bethesda Ruins
- Canterbury Commons
- Chryslus Building
- Corvage Factory
- Dunwich Building
- Jalbert Brothers Waste Disposal
- Jocko's Pop & Gas Stop
- National Guard Depot
- Old Olney
- Rivet City Entry and Parking Lot
- RobCo Production Facility
- Springvale School
- Warrington Station with Lucky's


==========[Known Issues]==========
If you do not have mods that modifies straat lighting, besides the required "Fallout Street Lights" mod, you are OK.