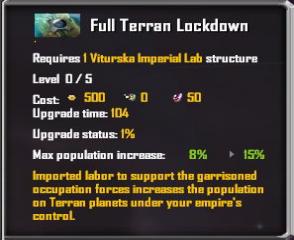 Views: 2,238
1.1
loder
EXPANDED RESEARCH V 1.1

This mod for the Sins of the Solar Empire game increases the maximum cap of many of the items in the research tree. Typically most of the powers only go up to one or two. The mod increases most caps to either four or five. No other changes have been made and the goal was to keep each race balanced. The natural difficulty against AI opponents will increase since they will generate more income with the mod active. Be-warned!

Rebellion:
This mod is likely to work with the Rebellion expansion however it has not been tested.

Requirements:
This mod was designed for the SoSE (1.32) Diplomacy expansion. It may work with Entrenchment and vanilla SoSE. Let me know.

Installation:
Find the Mod folder for your relevant game version and paste the Expanded Research folder in there.

Windows XP:
C:/Documents and Settings/[username]/Local Settings/Application Data/Ironclad Games/Sins of a Solar Empire/Mods-Diplomacy v1.32

Vista and Windows 7:
C:/Users/[username]/AppData/Local/Ironclad Games/Sins of a Solar Empire/Mods-Diplomacy v1.32

Goto the Mods page in options when you launch the game and enable the mod.

Changes:
V1.1 - Felt the Vasari were slightly overpowered, the revision reduces some of their cost reductive research options. Furthermore Enslaved Labor has been reduced. The TEC logistics research option has been increased to level 4 to allow them to build more civilian buildings. The research option to raise the Starbase Weapon banks has been increased from 1 to 4 allowing them to engage more targets at once.

TEC credits from purchases maximum level increased to 3.
Enslaved Labour reduced to a maximum level 5.
Vasari Speed Boost Armor maximum level increased to 3.
Wreckage Auto Salvage reduced to a maximum level of 5.
Development Mandate for TEC increased to a maximum level of 4.
Starbase Weapon Banks research level increased to 4 for all races.

Conflicts:
The mod will most likely interfere with any others which affect the research tree.

Permission:
Please do not upload the mod anywhere without asking permission. You can contact me on the mods reloaded site, my username is loder.

Feel free to use any part of the mod in your work, just give me credit.