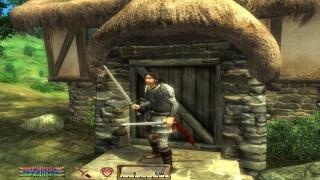 Views: 1,952
2.5c
Evantal
Forum Topic
http://www.elderscrolls.com/forums/index.php?showtopic=440040

Evantal's Dual Wielding v2.5c

V2.5c
- Fixed meshes for Glass and Dwarven Longswords

V2.5b
- Re-Balance again (see below)
- Added Vendor Level lists (see below)


V2.5a
- Fixed Daedric Weapon Value

V2.5
- New Re-Balance all weapons now rated according to material type (see below)
- Auto UnEquip/Equip script now MUCH faster, almost instant.
- Auto UnEquip/Equip on screen message text is now shorter.
- Added Daedric Weapons
- Added Daedrice Reverse Dagger


V2.4
- New optional Blade block sounds. This will replace the shield block sounds with the blade block sounds (now can you here the cling of Metal on Metal) Note: This will replace ALL shield block sounds.
- Added Ebony Weapons
- Added Reverse Ebony Dagger
- Added Cutlass

V2.3 - V2.3b
- Added an optional .esp that removes the Auto Unequip Script
- Added Reverse Glass Dagger
- Added Off-Hand Staff
- Fixed Glass Longsword and Mace Position
- Added Glass Weapons
- Added 2 NEW Reverse Grip Daggers
- Added Off-Hand Staff of Light
- Tweaked hand position on ALL models to be a closer match to the Attacking Weapon
- Fixed Issue with more that the specified vendor selling the weapons.
- Magic Weapons are now Unique (You can only buy them once).
- Total of 41 Weapons

V2.0 - V2.2
- Off-Hand Weapons now Un-Equip themselves when you sheath your main weapon and Re-Equip when you Un-Sheath it.
(This may take a few seconds for the script to run.)
- Weapons are no longer sheathed when you drop them.
- Mod name change to Standard for overwriting
- 2 NEW Reverse Grip Daggers
- NEW Off-Hand Katana
- Total of 33 Weapons
- Complete NEW model/mesh work done by me.
- Iron weapons have now been added
- Fine Steel Weapons and Cutlass have been removed
- There are now 30 weapons total

V1.0
- I have completely reworked the Weight/Health/Value and Armor Rating for each weapon.
- There are only 29 weapons total including 4 magical weapons.
- There are no Daedric, Ebony or Glass weapons I felt they were to rare to be so abundant.
- Iron Weapons were also remove because of a Purple/Missing Mesh problem.
- All the weapons now have there normal game weight, health and value. Except Magic weapons which I did myself.


DESCRIPTION
This mod adds Off-hand weapons to be used in place of shields. These weapons can only block and act just as shields do in the game.
You cannot attack with these weapons.


VENDOR LEVEL LISTS

IRON 1
STEEL 2
SILVER 4
DWARVEN 6
ELVEN 9
GLASS 12
EBONY 16
DAEDRIC 20



ARMOR RATINGS
Armor ratings are based on Weapon Material Type

LIGHT HEAVY
IRON 2.00 6.00
STEEL 4.00 7.50
SILVER 5.00 9.00
DWARVEN 7.00 11.00
ELVEN 9.00 12.00
GLASS 11.00 13.50
EBONY 12.00 15.00
DAEDRIC 14.00 19.00


LIGHT ARMOR
Dagger
Shortsword
Katana
Cutlass
Club
Staff

HEAVY ARMOR
Longsword
Mace
War Axe


INSTALLATION
Extract this archive to your Oblivion\Data directory. Then be sure to
activate the mod from the "Data Files" section of the Oblivion launcher.
If you have an older version of this mod, overwrite it
If you are using the Optional .esp make sure you drop it in the Oblivion\Data directory and overwite the current one.

SOUND INSTALLATION
If you are installing the Optional Blade Block sounds you must copy the contents of the Blade Sound ArchiveInvalidation.txt into your current ArchiveInvalidation.txt located in the \Oblivion directory. DO NOT RUN AUTO ARCHIVE INVALIDATION! this will break some textures with the mod.

WHERE TO GET THE WEAPONS
The Fighting Chance at the Imperial City now sells these Weapons.

USAGE
Please contact me for use other than play. Thanks

THANKS
A big thanks to Jannix Quinn's and his "Dual Wield V2 Blocking Capable" mod. It was the basis and inspiration for this mod. Thanks Jannix.
Special thanks to DemonFire and his Ideas on auto Un-Equiping Shields scripts.