Essential Oblivion Mods
Imagine standing on the deck of your ancient airship, seeing every detail as far as the eye can see. Now imagine flying off the deck using magical wings of light, or even just your trusty old hang glider. That's just a taste of the mods that I've decided to include in this list.

NOTE: Feel free to suggest more mods. If they're good, I'll be glad to add them to the list and give you credit for the find. There are countless numbers of additional quests, structures, weapons, armor, guilds, and various other mods. As much as I would love to, there is just no way for me to try out every mod..

Last Updated: 8/22/09 - I added the appropriate load order list, and added more essential mods.

First, here is screenshot using the mods from this list. Click the picture to see the 1680 x 1050 screenshot. You can see everything from an enormous distance away. Every person, object, light, cave, ruin, castle, everything is visible. People with high resolution displays will especially like my distance mods mentioned later in the thread.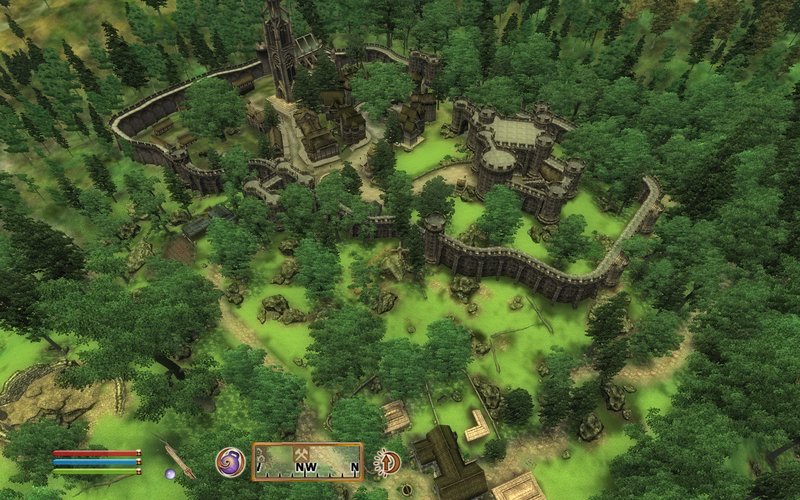 Before jumping into using the mods, you'll need to download the Oblivion Mod Manager v1.1.12. This is required for OMOD files, and the automatic archive invalidation features are excellent. You can also use it to enable or disable various Oblivion mods on the fly.



---
Essential Oblivion mods:

Unofficial Oblivion Patch v3.2 - I was leary of the "unofficial" patch because, well, it's unofficial. But this patch really works wonders. No more choppy framerates, less crashing, countless bugs fixed, and I haven't run into a problem yet. This one is definitely worth downloading.

Qarls Texture Pack III v1.3 - There isn't much to say about this mod, except that it's excellent. It is a must have texture pack that makes the game look absolutely amazing.

Dwemer Skyship - The name is exactly what it implies, though it's not quite the same as what you're used to in Final Fantasy. The skyship mainly serves as a homebase in the sky, but feel free to fly around using the included hang glider. You can summon the skyship to any location using a spell, and you can even launch an aerial cannon assault on your enemies.

Open Cities v3.2.4 - This is one of the best mods for Oblivion, especially if you're using the Skyship. It takes the cities of Cyrodill and makes them part of the main worldspace, just like Morrowind. That means no more having to wait at the entrance for the town to load, and no more ugly views of the city from above. You can ride your horse right through the gates. Or even better, glide from your airship right into the middle of town. Just be sure to download the Cheydinhal fix, and install compatibility patches for any expansion packs that you may be using.

Natural Environments - This is another mod that makes Cyrodill much more pleasing to the eye. There are several upgrades included in this pack, but I recommend only using "Natural Weather HDR," "Natural Habitat," and "Natural Vegetation." I actually used the "Natural Weather HDR with darker nights" and "brighter torches" esp's included in this mod pack, but it all boils down to preference really. Either way, the combination of these mods make the game much more realistic, especially outside of the cities. And don't install or activate the water mod, as my favorite water mod is next on my list.

Enhanced Water v2.0 - I've tried quite a few water mods, and I find that the "HD" version of this one is the best. When viewing water from the air, the water blends perfectly from the fully loaded grids into the distant grids, unlike most other water mods. Plus, you can still see perfectly fine underwater, and the water has a nice blue color to it. And although it's not a necessity, you'll want to grab the Enhanced Water v2.0 HD - Shivering Isles Addon if you want the same settings to be used in the Shivering Isles.

Real Lava - I decided to include this one right after Enhanced Water, since Lava is the "water" of the Oblivion planes. But despite being a seamingly minor upgrade, the added realism of the Lava makes this a worthy download.

Improved Trees and Flora and two updates - This is another texture mod that makes the various plant life look much more realistic. There are two updates that I recommend installing after you install the original files. There are additional and improved textures in each update.

Darker Canopy Shadows - This mod does exactly what the name implies. It replaces the tree canopy texture with a darker one. It doesn't seem like this change would make a huge difference, but the forests and wooded areas look much better now.

Danis13 Beauty Faces v1.3 - First, let me say that the pictures on the website are very outdated. You should check out the comparison pictures included in the download to see just how much better these textures are. This started out as an upgrade of "Natural Faces," but the latest update puts it in a ***** of it's own. The textures are much better than any others that I have seen, and the color of the necks matches the stock bodies perfectly.

Arcane University 300 - Were you expecting much more when you first entered the Arcane University? I definitely was, and that's what this patch is for. It's a complete remake of the University. The upgrades are quite stunning, and the Arcane University can finally live up to it's name.

Midas Magic Spells of Aurum - This is a mod that I'm really looking forward to trying out once I get admitted to the Arcane University. This mod adds about 300 new spells of all types to the game. The visuals are amazing, and it took alot of time and effort to produce this mod. You should really check out the pictures and video. Words just can't do this mod justice.

Akatosh Mount by Saiden Storm v19 - What would a mage be without a magical creature of some sort at his or her side? For this, I chose a dragon. Well actually, I chose 5 dragons! This mod includes 5 powerful dragons based on 5 different elements. You can summon them at anytime, and can freely fly to any part of Cyrodill. The dragons are completely animated, and even flap their wings as they fly! I love this mod so much, I may give the textures a really nice upgrade in the near future. Either way, this mod is definitely worth the download.

Darker Dungeons & brighter torches - I always did wonder what the point of torches was if you don't have to use them. This mod definitely changes that aspect. The darker dungeon mod is a must have IMO. It makes dungeons of all types much more realistic, and actually makes the torches useful. I also recommend using the brighter torches esp included in the Natural Environments mod. You'll need it


Oh, and after you equip a torch, it automatically raises itself again after you lower your weapon. So no worries about constantly having to enter the menu to equip the a torch.

Draw distance modifications - These modifications extend the visibility of everything in the game. No more enemies, NPC's, caves, castles, flames, etc. suddenly popping into view while running around Cyrodiil. First, you'll need to navigate to your documents folder and open the folder named "My Games." Inside this folder is the Oblivion folder, which contains a file named Oblivion.ini. Use notepad to edit the file, and use "ctrl + f" (find) to find each setting. So here they are, the ini tweaks that greatly increase the viewing distance for everything in the game:


Code: Select all

uGridDistantTreeRange=30
uGridDistantCount=35
uGridsToLoad=9 - DO NOT set this higher than 9!
fShadowLOD2=1000.0000
fShadowLOD1=600.0000
fLightLOD2=3000.0000
fLightLOD1=2500.0000
fSpecularLOD2=2500.0000
fSpecularLOD1=2000.0000
fSpecualrStartMax=2500.0000
fLODFadeOutMultActors=60.0000
fLODFadeOutMultItems=30.0000
fLODFadeOutMultObjects=60.0000
fLODMultLandscape=4.0000
fLODMultTrees=4.0000
fLODMultActors=55.0000
fLODMultItems=25.0000
fLODMultObjects=55.0000
fTreeLODMax=4.0000
fTreeLODMin=0.0200
fTreeLODDefault=4.0000
fObjectLODMax=55.0000
fObjectLODMin=1.0000
fObjectLODDefault=55.0000
fItemLODMax=25.0000
fItemLODMin=1.0000
fItemLODDefault=25.0000
fActorLODMax=55.0000
fActorLODMin=2.0000
fActorLODDefault=55.0000


These settings make the game load more types of grass at one time, and change the grass density slightly:

Code: Select all

iGrassDensityEvalSize=1
iMaxGrassTypesPerTexure=4
fTexturePctThreshold=0.2750
---
Superficial Weapon and Armor mods:

Elemental Glass Armors - These armor and weapon combinations may just be the best looking sets in the game. They are actually based off of the glass sets, but with an excellent upgrade. The armor glows in the dark! Each set glows a different color based on it's elemental name. The variations (fire, frost and lighting) glow red, blue, and white respectively. The included weapons also glow in the dark, and everything looks absolutely amazing when used together. These sets would be perfect for enchanting at the arcane university.

Platinum Armor and Weapons - Are you tired of playing as a good character, but having to look evil because of Daedric armor and weapons? Are you looking for new heavy armor that is just as good as the Daedric Armor? If so, then this mod is for you. This set features the same exact specifications as Daedric armor and weapons, but it actually looks like it belongs on the hero of Cyrodill. Everything is silver with gold trim, and would make excellent choices for your best heavy armor and weapons.

OBMM mod load order: You'll want to arrange the mods on your OBMM list as follows. I haven't enabled the more powerful weapons or armor yet, nor have I installed any new locations and homes, but you get the idea...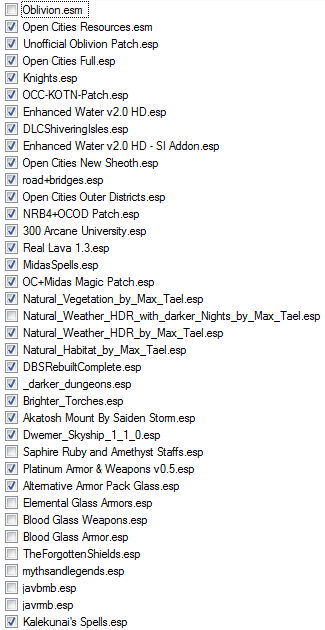 Keep in mind that there are tons of great mods out there, and these are just the tip of the iceberg. There are structures, weapons, armor, guilds, gameplay mods, new lands, outstanding homebrew Quests, and lots of other mods! There is even a mod to


make the townsfolk rebuild Kvatch over time!

I hope that you like my compilation, and hopefully people will contribute even more mods to the list
Please remember to comment, it helps to encourage modders with their work.
1.0

Posts: 1054
Location: England
Uploads: 17
Kudos: 18
Motherboard: Gigabyte EP41
CPU: Intel Core 2 Duo
GPU: Nvidia 9800 GTX PCI
RAM: 2048 RAM DDR 2
---
Re: Essential Oblivion Mods
nice. im replaying oblivion again. I havent tried a few of these, so i'll give them a try.
Renegade0
---