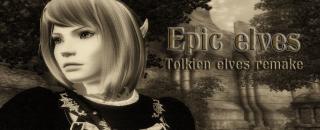 Views: 6,561
1.0
Kani Hime
Description
This mod adds a new elven race based on my Tolkien elves race mod. The archive includes 26 hairstyles (cazy and coolsims), 20 eyes variations, face and body textures (2048x2048). Only for female characters using HGEC body replacer.

Epic elves feel a bond with nature and strive to live in harmony with the natural world. They are proficient with bows and swords as well as healing magic.

Skills
Marksman, Light Armor, acrobatics - 10
Blade, Speechcraft, Restoration - 5

Stats
Strength - 30
Intelligence - 40
Willpower - 50
Agility - 40
Speed - 45
Endurance - 35
Luck - 50
Personality - 40


Requirements
Oblivion Patch 1.2.0.214
HGEC Body Replacer
Custom Race Fix

Installation Instructions
- Unpack archive to a temporary location
- Copy files to your game directory (for example D:/Games/Oblivion/Data)
- Start Oblivion Launcher, select "Data files" and place a tick beside the Kani's Elves.esp

Uninstallation Instructions
Just remove a tick beside the Kani's Elves.esp or delete from your computer next folders:
- Oblivion/Data/Textures/01KH_Elves
- Oblivion/Data/Meshes/01KH_Elves and remove Kani's Elves.esp from Oblivion/Data.

Tools Used
Adobe Photoshop CS5.1
NVIDIA Photoshop DDS plugin
The Elder Scrolls Construction Set
7-Zip
Notepad

Credits
Thanks to Bethesda for creating Oblivion.
Thanks to RAIAR and Madcat22 for HGEC Bodies.
Thanks to Ozmo for HGEC High Rez Skin Textures.
Thanks to Cazy, Anto, ziitch and FumoFumo for the Cazy hair package.
Thanks to Anto for coolsims hair package.
Thanks to throttlekitty for Head06 and working eyelashes.
Thanks to Lucha for H6 Fem3 tweaked and coolsims hair conversions.
Thanks to Dante90 for the short pierced elf ears.
Thanks to everyone who uses my race.


Author's note
Don't like it - simply remove it from your PC. I really don't care about any displeasures of yours.

Licensing
If you want to use any parts of the mod, please contact original authors. Do not redistribute this mod without my permission.
I'm not responsible for your game crashing after installing this mod. Blame your heedlessness.