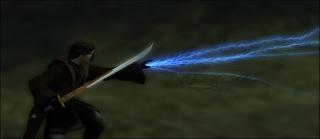 Views: 2,214
1.0
BIOShazard
High-Resolution Lightning
**********
A MOD FOR SWKOTOR2: TSL
BY TRIGGERGOD

**********

Contact me:
Email: chris@blulinecomputers.com
PM at LucasForums.com. Username is TriggerGod.

Information: While playing through TSL, I noticed how low-res some of the textures looked. I thought to myself "Well, I can make some of these textures better!" And so I did. I retextured the Lightning to be more high-quality.
When I finished making the lightning texture, I saw how bad the conjure texture looked next to it. Someday, I might end up retexturing that now. But for now, I just plain got rid of it.

Credits:
Fred Tetra, for his amazing Kotor Tool

Installation:
Place the files into your Override folder. If you don't have an override folder, make one or update your game.

Uninstallation:
Remove files from your override folder. If you don't know how to do this, I reccommend you learn how to use the computer more.

If you want to use this mod in your own mod, contact me. I don't care how, I check messages and email regularly.

Legalese:
this mod isn't endorsed, sponsered, created, or any other big words i don't fully comprehend yet by LucasArts, Obsidian Entertainment, Bioware, or any other company in the world you can think of.