Elite Dangerous - Hyperspace Jump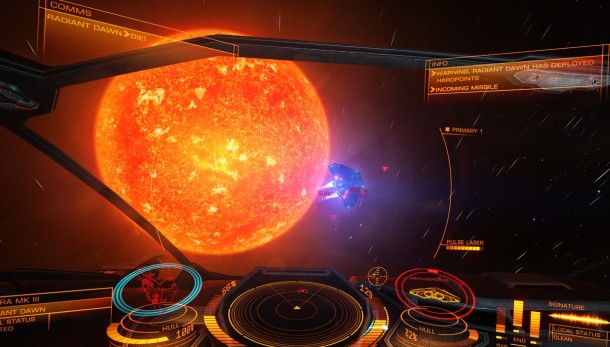 For years I've been eagerly awaiting the next installment of the Frontier game called Elite Dangerous. A video surfaced on YouTube and Reddit a few days ago which illustrates a hyperspace jump. In the previous games the hyperspace jump would take several days if not weeks to complete and you'd often arrive at the outer edge of the solar system. Judging on the destination in the video it would seem that you traverse directly to the central star with the new hyper drive engines. Check out the video, make sure you watch it in high res. Elite Dangerous is due out sometime this year but I'm not sure when.



EDIT: In addition to hyperspace jumps, ships can now also super cruse for accelerated travel within systems. Having not played the game, I cannot confirm whether or not you activate super cruising by leaning one arm out of your ship's window.

This is now Elite: Dangerous's last alpha phase. As of May 30th, the game will move into beta.
We are only temporary custodians of the particles which made us - Stephen Hawking
Site Admin

Posts: 2148
Location: UK
Uploads: 22
Kudos: 60
CPU: AMD FX6300 - 3.5 Ghz
GPU: Nvidia GTX 660
RAM: 8GB
Storage Space: 750GB
Sound Card: On board
Case: Corsair Obsidian 550D
---