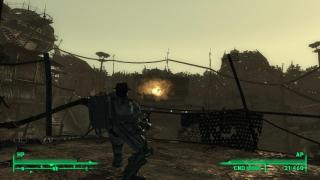 Views: 1,758
1.0
Meatloaf231
Adds a new minigun to the Fallout 3 game that fires highly explosive rounds at a slower rate.

This gun is just how it sounds - preposterous. It's a minigun-turned-flak cannon. It's also about as fun as it sounds.

It's available from Moira Brown, but it's pretty expensive, and don't expect anything to be a challenge after you have it. - Update: cheapened it and lowered the damage a good amount, but increased the firing speed by a bit as well to compensate.
Note:
having the Fallout 3 Mod Manager makes things a lot easier.
Installation:
Download the file, unzip it into your Bethesda Softworks/Fallout3/Data folder, open the Fallout 3 launcher, click on Data Files and check the box that says "EarthShaker." Click OK or Accept or whatever it is. Launch Fallout. Enjoy.

Moira's got it, but it's expensive and you may not be able to acquire it. Just open the console and type [player.additem 01000ea6 100] for 100 ammo and [player.additem 01000ea8 1 100] for the gun, minus the brackets.

I may be tweaking it a bit as I receive feedback, so please tell me if there's something you would like changed about it.