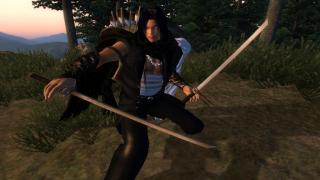 Views: 3,273
1.0
exilehunter
Dual Wield Complete (aka. The Offhand Series) by exilehunter


Description
This mod adds the capability to wield 2 weapons at the same time - 1 offensive and 1 defensive. All singlehanded weapons now have a defensive counterpart being sold at Stonewall Shield located in the Imperial City Market District. Offhand weapons take up the shield slot and are balanced to the offensive weapon's statistics. They will not appear in shop until you have met the level they become loot in vanilla Oblivion.

Daedric Artifacts and Unique weaponry can now be toggled to become defensive! Just equip the weapon and select 'Yes' when prompted to change. The offhand version of the weapon will be equipped and the offensive one removed when you exit your inventory (don't bother trying to drop the original weapon. I made sure it's impossible to duplicate). The offhands can be reverted back to normal by equipping them and selecting 'Yes' when prompted. They are all enchanted with corresponding effects ie. drain health will be fortify health and frost damage is now frost resist. Weapons with weights over 45 are considered Heavy armor.

(This no longer requires my old mod - Offhand Series. If you still use it , please either remove it or rename this esp to the old name to ensure no items are lost)

Feel free to post or rate.

Enjoy!