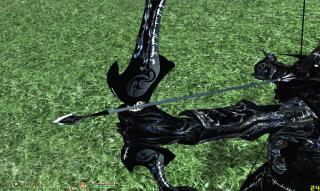 Views: 2,052
1.1
Nicoroshi
Readthis for Nico's Dreadweave Bow, and Arrows v1.1
_______________________________________________________

Reason for this mod:
_____________________

This mod was created to complete a set consisting of a set of armor, sword, and now bow, and arrows.

For those people who want to match, and look evil at the same time.

What It Does:
______________

This mod adds one Dreadweave Bow, and 250 Dreadweave arrows to the end of Ondo (Aylied) ruins.

It's sitting to the right side of the altar with an Aylied cask where the Dreadweave armor is located.

Installation:
______________

Unpack the archive to a known location (like my documents). Drop the folder marked 'Data' into your Oblivion directory (where the Oblivion.exe is located)

Be sure to place a checkmark next to 'Nico's Dreadweave Bow and arrows.esp' at Oblivion start-up in the Data directory.
Un-installation:
_________________

Remove the checkmark from the 'Nico's Dreadweave Bow and Arrows.esp' found in your Data directory at Oblivion start-up.

If you'd also like to remove the files (not needed) they are located in folders marked 'Nico's Dreadweave bow (or arrows)' in the meshes, and texture folders.


Known Issues:
______________

The only issue I found while play testing this mod concerns the arrow duplication glitch. Seems that it doesn't work with the arrows I created if you have more than one in your inventory.

If you'd like to use this glitch to duplicate the arrows shoot one at a rock (watch where it lands). Drop all the Dreadweave arrows from your inventory. Pick up the one arrow. Equip it. Perform the duplication glitch as normal. Pick all the arrows up.


Extras:
________

I have enclosed a file marked 'Hints' which contains pictures of the location of Ondo as well as the location within Ondo where the Bow, and 250 arrows are located.

Use these (or not) as you see fit.

Thanks:
________
Big thanks to Scribe for creating the original concept art this bow is based on.

Thanks to Windy for figuring out the easy way to map the bowmorph. Without his method none of my bows would have been possible.

Thanks also to the people who answered in my thread with awesome feedback that made this bow, and arrows set what it is.

Thanks also to J.R.R. Tolkien for creating Tengwar cursive.


Permissions:
_____________

It is O.K. to re-release this mod in it's original form should I become unreachable.

It is also O.K. to use the meshes, textures, and icons as a modders resource so long as credit is given for my original work.

Version History:
_________________

1.0 First release
1.1 Renamed some files that may cause an issue with Oblivion's game engine

Author's note:
_______________

Dreadweave I guess isn't complete like originally thought. I am creating an axe for those that like blunt weapons.
Coming soon.........

Forum Link

http://www.elderscrolls.com/forums/index.php?showtopic=657537