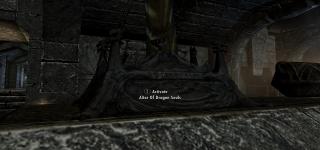 Views: 2,136
1.02
StewB
Name: Dragon Souls To Attributes
Version: 1.02
Date Created: 9/9/12
Date: 11/9/12
Category: Gameplay & Settings
Game: Skyrim
Requirements: Win-Zip, Win-Rar e.t.c
Author: Stewb
Youtube Video: http://www.youtube.com/watch?v=8pvupJRn-pk



Description
An altar at High Hrothgar that allows you to convert Dragon Souls in Attributes (Health, Stamina, Magicka)



Details
An altar at High Hrothgar that allows you to convert Dragon Souls into 10 points of Attributes (Health, Stamina, Magicka). Now the dead dragons really do make Dovahkiin stronger :)



Install
1. Extract the file and readme to C:(Install Directory)Data
2. Start Skyrim, select Data Files, Check "Dragon Souls To Attributes" file.



Uninstall
Delete the Dragon Souls To Attributes.esp and readme from your Skyrim data directory and the listed files below, or just use the nexus mod manager.



Known Issues or Bugs
None



Contact
You can find me on NexusMods as 'Stewb', Bethesda Game Studios as Acwaz-Mare or alternatively you can email at: stew1409 [at] yahoo [dot] co [dot] uk




Tools Used
Readme Generator - http://lhammonds.game-host.org/obmm/tools_readme_generator1.asp



Licensing/Legal
Contact me and ask about anything you want to do.



History
Saved this till last as its most boring ;)


**11/9/12**

So .esps store the scripts seperately? Sorry bout that folks. Here's the missing files.


**9/9/12**

Initial release