Dragon Age Origins Awakening powers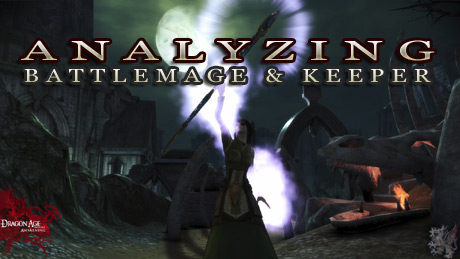 Mages have gotten a lot of love in Dragon Age: Awakening, with the release of two new class specializations that make killing darkspawn and saving the world easier and more fun than ever before. Between the massive arcane power of the Battlemage and the tactical prowess of the Keeper, there's something for every mage in Awakening.

Surrounded by darkspawn? More monsters around every corner? You bet. Combat in Awakening is rarely a battle of equal numbers, and most of the time, your party will be fighting enemies on all sides. Fortunately, both Keepers and Battlemages are equipped with spells to handle lots of enemies all at once.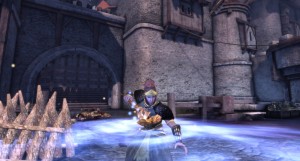 The Battlemage brings raw magical power to the front lines of combat, blasting nearby enemies with elemental damage, and drawing energy from their foes to stay alive and casting even when the going gets tough.



Battlemage Abilities:




Draining Aura: The battlemage thrives in the heat of combat, creating a field that drains life from nearby enemies to heal the mage for as long as the spell is active. Each time an enemy is drained, the spell consumes a small amount of the battlemage's mana.


Hand of Winter: The battlemage releases a burst of intense cold, damaging nearby enemies as well as freezing them unless they pass a physical resistance check, and inflicting a penalty to movement speed otherwise.


Stoic: The battlemage has learned to harness pain and transform it into power, restoring mana whenever the mage suffers damage.


Elemental Chaos: The battlemage creates a field of chaotic, swirling energy that continuously harms nearby enemies with damage from each of the elements in turn for as long as this spell is active. The spell consumes mana rapidly.




Strengths:

Battlemages cast powerful spells which deal high amounts of elemental damage to enemies. They possess versatile sustained abilities which add power to your arsenal, often without disrupting your regular spell rotation. And they have more staying power on the front lines, thanks to abilities which replenish life and mana.



Weaknesses:

Elemental Chaos is extremely mana intensive, even with the Stoic ability. Battlemage spells are significantly less effective in single-target combat.

Why you want one in your party: A Battlemage is your best friend when seeking to defeat large groups of enemies in close combat. Hand of Winter is indispensable for controlling kill order, mitigating damage, and for getting those irresistible shattering kills. For battles with lots of low-health enemies, or foes with immunity to one elemental damage type, Elemental Chaos is worth its weight in lyrium. Their prowess on the front lines makes the Battlemage an ideal companion for warriors and dual-wielding rogues.

By contrast to the front-line Battlemage, the Keeper specialization offers the more standoffish mage a chance to gain a tactical advantage in combat with spells that slow, bind or knock back enemies.


---
Keeper Abilities:
One With Nature:

The keeper's bond with the earth creates a defensive shield that immobilizes the keeper for as long as this spell is active, but inflicts nature damage and a penalty to movement speed on any enemy that enters the field.



Thorn Blades:

The keeper calls roots from beneath the earth to inflict physical damage on all enemies within the field created by One With Nature. The roots also knock enemies back unless they pass a physical resistance check.



Replenishment:

No living thing can escape the cycle of life; all who fall return to the earth. The mage now regains some health whenever a keeper spell inflicts damage. When an enemy dies within the field of One With Nature, the body is consumed, giving the mage a large bonus to health regeneration for a short time.



Nature's Vengeance:

The keeper summons gigantic roots from within the ground to attack all enemies in the area, impaling the opponents for a short time unless they pass a physical resistance check.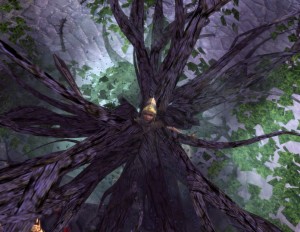 Strengths:

Their slow and knockback abilities give Keepers a strategic advantage even when surrounded by enemies, and also help to protect weaker party members from harm. One With Nature provides continual protection at a low fatigue penalty, allowing the Keeper to cast their regular spell rotation with little interruption. Replenishment provides consistent damage mitigation at no extra mana cost.



Weaknesses:

One With Nature roots the mage in place, making tactical placement very important. All abilities rely on physical resistance checks, making Keeper spells significantly less effective against physically powerful monsters.

Why you want one in your party: Keepers bring control and finesse to every battle, forming a protective "safe zone" of roots and vines that keep enemies away from your more vulnerable party members while incapacitating your foes. Keepers are the perfect option for players who enjoy fighting from a distance, or who employ mages focused on group support and buffing. They are a wonderful asset to archers or other ranged-attack mages, though their ability to immobilize the enemy also makes them a good fit for backstabbing rogues seeking a quick kill.

Whether tackling darkspawn and demons on the front lines, or dictating the tide of battle through nature's power, the new Battlemage and Keeper specializations are worthy additions to the mage arsenal.
The new Keeper specialization is a worthy addition to the mage arsenal.
Please remember to comment, it helps to encourage modders with their work.
1.0

Posts: 1054
Location: England
Uploads: 17
Kudos: 18
Motherboard: Gigabyte EP41
CPU: Intel Core 2 Duo
GPU: Nvidia 9800 GTX PCI
RAM: 2048 RAM DDR 2
---