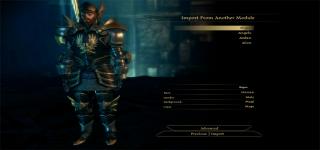 Views: 5,681
1.01
KigenAngelo
Just as the name says, this is an unofficial patch to your DLC to get them to work with DA:Awakening.

Update Ver1.01: Adds Localization Patch

In the works - a mod that will add quests for Power of Blood skills and adding to shops the current items not available to Orleasian Grey Wardens.

====== Vigilance/Starfang Graphic Patch ======
Download the KigenWakenPatch.erf and put it in your \\Documents\\Bioware\\Dragon Age\\packages\\core folder. This may not be fully compatible with localized versions.

====== The Install of DLC in Awakening ======
THESE DO NOT GO IN THE CORE/OVERRIDE FOLDER. THEY MUST DO IN THE ADDIN FOLDER.

Step by step:
1) Extract the file. It should have a folder like "dao_prc_nrx_1" that corresponds to the exact UID of the addin. In this example it is Warden's Keep.

2) Find your ADDIN folder. This is usually found under \\Documents\\Bioware\\Dragon Age\\ Folder

Again that path should be \\Documents\\Bioware\\Dragon Age\\ADDIN depending on your install/OS/etc.

3) Just drag and drop your dao_**** in to the ADDIN folder. It will ask you to override. Go ahead and allow it.

For those concerned about the override simply look in the dao_*** folder you extracted, open CORE, then COPY or CUT the OVERRIDE folder. Find the corresponding dao_**** folder under ADDIN, open it, then open CORE, and PASTE the OVERRIDE folder in the CORE folder.


==== Sidenotes ====
As of now, if you make a new Orlesian Warden, the DLC will retroactively give itself to them. In fact this holds true to any character that created in the "Other Campaign" that was not imported.

=== KNOWN ISSUES ===
- Shale's Weapons do not display "Convert all damage to ELEMENT"
- Memory Band is not retroactively given to the Orleans Warden.

=== ANOTHER IMPORTANT NOTE ===
My mod will not work with non-paid for versions of the DLC in the case of Warden's Keep and Stone Prisoner. I have no desire to fix this. Please support BioWare and all their hardwork.