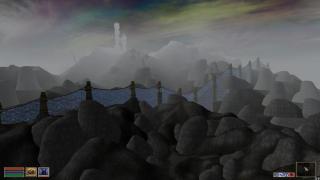 Views: 726
1.1
Povuholo
New in V1.1:

Lava and mudpools
Great House Strongholds and Raven Rock
Waterfalls
----------------------

MGE's excellent distant static (and land) feature has one 'flaw': Activators, like doors, or banners and signs won't show up as distant statics, because they aren't statics.

Using the Construction Set, I replaced the activators with static versions,
allowing MGE to render them. The best part? Once you've used the esp files to generate the distant statics, you can delete them. You don't have to activate them and use them in the game!

Every type of replacer has a separate esp. The list of 'fixes' includes but is not limited to:

The GhostFence(!)
All exterior banners, signs and flags
The Vivec Plaza doors
All Silt Striders
A few large activators in Bloodmoon

Except for the Bloodmoon esp's, the mod doesn't require the Morrowind expansion packs.

Note: This mod doesn't fix activators added by other mods.

If you have found a bug or other issue in this mod, either e-mail me or check the forum thread. You can post it here as well, but I don't check my comments too often so the response can be late.

My contact information is in the readme.