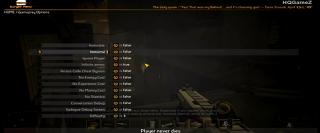 Views: 10,913
1.0
SAF
Owners of the Deus Ex Human Revolution PC version on Steam have reasons to celebrate, as a special mod for the title has been released, enabling the debug mode for Human Revolution, thus allowing players to access all sorts of hidden features like a map select screen, manipulate in-game attributes like health regeneration, or finally disable the unskippable introduction of the new Deus Ex title.

While the PC version was extremely stable, while looking and feelling quite sharp, hardcore gamers started poking around its code in order to uncover any hidden features.

Now, a user of the Something Awful forums, gibbed, has released a special mod for Deus Ex Human Revolution, which enables the debug mode inside the game, effectively allowing players complete access to any and all features and options, usually reserved only for developers.

The debug menu can be accessed from the pause screen and allows players the ability to manipulate all sorts of options, like giving themselves infinite augmentation power or ammo, change the way the AI behaves or disable the user interface.

The Debug Menu allows you to manipulate the game (no health regen, infinite power, infinite ammo, AI options, UI options) and has a Shop feature, which lets you spawn yourself augmentations, money, weapons, weapon mods and other in-game items, as well as tons of debug options which you probably should leave alone, said a member of the Eidos Montreal forums about the mod.

A Map Selection Window is also available, allowing players to instantly spawn in various areas of the game's world.

The most important feature, at least in our opinion, is the fact that you can disable the introduction scenes, where logos of companies like Square Enix, Eidos Montreal or AMD pop up, which can't be skipped in any other way.