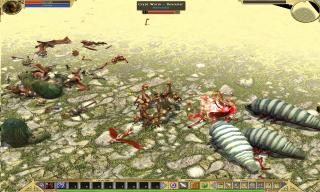 Views: 12,451
1.16
i.n.s.a.n.e
Hey guyz,


I've been little busy for several weeks making one nice mod for me and my friends, and I decided I could show it here in case you like it and want it too when it is finished...

It is a mod that changes almost all death effects of creatures to make the game more realistic. I do not like violence, but looking at the monster I slashed is...wierd...and you know, I do not force anyone to download it and play it...just few words for opposite side...


What the mod contains? Read the following:

- Real blood (I think this one is one of the closest to the really real blood).
- Insectoids kinda body fluid (should be changed, it does not look good much).
- Crows body on stage! Lowered feathers amount.
- Plague crows have diseased cloud around their body. Feathers amount lowered.
- Demons are taken by the flames from hell itself...
- Green and blue djinns have kinda spiral-magical disappearance effect.
- Big dragons before last Telkine are also taken by hell but differently.
- Fire demons disappear in flames...I am still thinking if the hell should be here also.
- Harpies - each kind (8) has its own coloured feathers (the ending one for now)
- Ice creatures shatter into ice shards.
- Plants burst perianth (?) and also some leaves.
- Big trees (Jungle creeps) burst leaves, twigs and barks.
- Smaller trees burst the same stuff as Big trees, but different kind of leaves and such.
- Vultures have own feathers.
- Zombies have a diseased cloud around their body.
- The real blood amount is tweaked for the size of monsters. Small creatures have small amount of blood, medium has medium amount of blood and large ones have large amount of blood...
- Mummies do not dissolve anymore. (thinking about strips of theirs in new version..)
- etc.

My idea is to release it as database.arz, so that it could be played with other mods. The only downside is the person you would want to play with online would need to have it also... (or you can put back the old database.arz for that time, sure). I will also include it in the last community patch (VERY last I mean though). Then it should be all...

So, if anyone has anything to say, I am a BIG EAR.