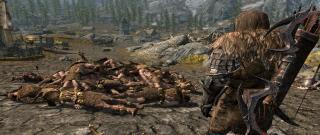 Views: 4,269
1.0
LargeStyle
***Temporary Update: 08/02/2013***
I'm trying to create a spell which disintegrates corpses (so that any corpses that happen to block pathways can be removed) but I'm not at all familiar with spell modding so I've started a thread on the forums requesting help:



Description
If anyone can kindly help and contribute to this mod then full credits will be given on this page - I simply don't care about standing in the spotlight, I just want the Nexus community to enjoy an "improved" version of this mod if at all possible.


All dead bodies are now solid and can collide with yourself and other NPCs - no more walking straight through corpses. This applies to all characters so you can collide / stand on / stack up any corpses within Skyrim (yes even including dragons, giants, mammoths etc.) This should result in a more realistic and immersive experience!

Please note that this mod was made using instructions that I received via Nexus Forums, however for some reason this mod hasn't actually been released.



Requirements
Skyrim (DLC not required)



Conflicts

This mod should not conflict with any other mods.