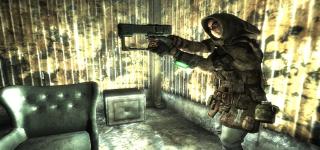 Views: 2,211
1.0
Ogramirad
Adds two unique Laser Weapons to the game.

Location
========
Farragut West Station DCTA Control Room.

Details
=======
The DCTA Employee Handbook; Section 28.1.1.b

Congratulations on receiving your new DCTA Standard-Issue Laser Weapons!

Please take a few minutes to go over the guidelines posted in the DCTA Employee Handbook; Section 28.1.1.b, and reprinted below for your convenience.

Section 28.1.1.b - Proper Laser Weapon Usage

It should be noted that all DCTA property should be handled with the utmost care, and used only when necessary.

Maintaining personal safety during a Communist attack is a good example of proper usage of your standard issue laser weapon.

However, rodent population control is an inappropriate use and subject to disciplinary action, as noted in Section 11.3.5.c

Section 28.1.1.b.1 - Maintaining Safe Conditions With Laser Weapons

Using these laser weapons in the DCTA Metro facility can be beneficial in many ways, but the operator must observe his or her surroundings before deciding to fire.

The subway utility pipes often serve as conduit to transport highly flammable gasses. Firing a laser weapon in the presence of a gas leak could cause an undesired explosion and/or severe personal injury.

Section 28.1.1.b.2 - Operating Laser Weapons Within Proper Specifications

It is required that all DCTA Employees keep these laser weapons pulse energy, length and repetition rate within the specifications diagrammed in the Laser Weapons User's Manual.

These weapons are prototypes. The DCTA has been chosen to evaluate their performance and practical use in the everyday work environment, that a DCTA employee could possibly encounter.

Failure to adhere to the specifications diagrammed in the Laser Weapons User's Manual could result in severe reprimands from the DCTA Regulatory Committee as well as serious personal injury.

The Laser Pistol is the equivalent of the Stock Plasma Pistol in damage, and the Laser Rifle, is the equivalent of A3-21's Plasma Rifle.

I really liked the plasma weapons, but my first energy weapons was the Laser Pistol from the Farragut West Station DCTA Control Room.

I found it quite gratifying the first time I reduced a foe to a smoking ash pile, and I missed that, when I moved to the more dangerous Plasma Weapons.

So never missing the opportunity to make a Unique Weapon in the game, I made these.

If you want it to look like it does in the pictures you must use these most excellent texture replacing mods.

Newer Laser Pistol
http://www.fallout3nexus.com/downloads/file.php?id=251
Newer Laser Rifle
http://www.fallout3nexus.com/downloads/file.php?id=416

Something Very Cool I found out that can be used for custom texture replacer, is that when you use this Very Cool Mod:
Hi-Res Weapons and Ammo Textures
It will replace the textures that you see in the game with the default Hires textures that mod offers, but if you use a custom texture replace like I do for my DCTA Laser mod you will see the custom texture in your hand and in third person, but the texture you see being used by NPC's is the default texture.

So using the Hi-Res Weapons and Ammo Textures with your favorite custom replacer will make that one you use Unique.

Install
=======
1. Extract to a temporary location.
2. Examine the folder structure and make corrections where necessary.
3. Copy files to (install folder)\Fallout 3\Data\
4. Start Fallout 3 Launcher, click 'Data Files', verify there is a checkmark beside the .esp file.

Uninstall
=========
1. Start Fallout 3 Launcher, click Data Files, uncheck the .esp file(s).
2. Delete the file associated with the mod:

Incompatibility
===============
None that I know of, as long as the mod requirements are used.

Known Issues or Bugs
====================
As with any mod, a backup of your save game is suggested.

If you come across any please let me know.
Official Fallout Patch v1.0.0.15 English US was installed on my machine when this mod was created, just to let you know, probably not a problem.

History
=======
1.0 06 Feb 2009 Release

Contact
=======
My contact name is Ogramirad, on the Nexus Forums and the Bethesda Game Studios Forums.

Credits
=======
Thanks to everyone that helped me in the TES Construction Set forums, WilliamSea, TheTalkieToaster, being a primary help for sure, in my very first steps in modding, for sure.

There are others as well that I have talked to in the past working on my mods, more than I can think of or name here.

Tools Used
==========
TES Construction Set - http://fallout.bethsoft.com/eng/downloads/geck.html
Readme Generator - http://lhammonds.game-host.org/obmm/tools_readme_generator1.asp

Licensing/Legal
===============
You can do whatever you want with *The Work* in this mod- credit would be nice, I know its nothing special but I like it.