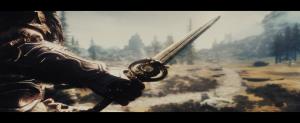 Views: 1,663
1.0
Dystortion
About
A high res enhancement for both dawnbreaker and spellbreaker in skyrim. All textures are 2k and feature high quality normal maps for increased detail.


Default textures
The default bethesda textures are only 512x512, which is pretty... low. I enhanced them to 2048 x 2048 which isn't an incredible amount, but it really makes a difference along with the contrast and lighting tweaks.

I added and the darker sleeker color of the blade and some color to the shield as well as doing a pretty decent normal map update.