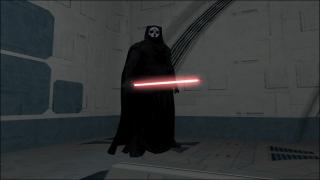 Views: 3,340
1.4
DarthDementous
This is my third recruitment mod. In this, you will recruit myself, DarthDementous. He is (or I am) a great 'Teacher' (leader) of a cult group (Order) who commands massive armies and a large ammount of apprentices.

DarthDementous replaces G0T0. Now I have updated it again and now there are over QUADRUPLE (!!!) the conversation choices of the first version of this mod! Darth Dementous is way more developed than my other 2 recruitment mods, FOREN GORU and SARIA.

In version 1.3, there were more conversation choices, Darth was less
'OVERPOWERED', and I tried to fix more bugs. There was also a new
feature: Dementuos Points. Instead of gaining Dark side points from Darth,
you gain Dementous Points.

Dementous Points are actually quite simple: They are Darth's influence points. The higher your Dementous Points are, the more dialogue choices there are, giving you the feeling of accomplishment once you earn new dialogue choices. Of course, Jedi will still try to hunt you and Darth down! I advise you, though, the Jedi are very
strong, so watch out!
NEW IN VERSION 1.4:
More dialogue choices (Lessons included). A super new feature:
YOU CAN NOW JOIN A PATH IN THE DEMENTOUS ORDER! Each path (Dementous Apprentice, Dementous Order Seeker, and Dementous Soldier) has its own unique lessons and missions.

You are a Dementous Apprentice by default, but you can join one of the other paths instead.

This update goes more in depth with the storyline of the Dementous Order. You will
learn more about Darth and the Dementous Order.
Note:
Once you join a path other than apprentice, you will never be able to be an apprentice ever again!
INSTALLATION:
Put all files into Override folder. If you don't have an Override foler, make one.