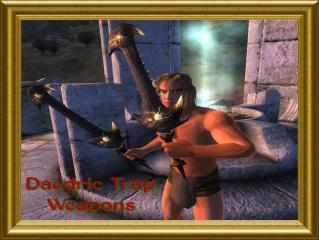 Views: 1,204
1.1
LHammonds
Name: Daedric Trap Weapons (modder's resource)
Version: 1.1
Date: 02/04/2008
Category: Weapons and Armor
Requirements: 7-Zip
Recommended: Oblivion Mod Manager
Author: LHammonds
Source: TESNexus
REQz Thread: The Elder Scrolls Forum
RELz Thread: The Elder Scrolls Forum
File Mirror #1: Planet Elder Scrolls
File Mirror #2: MediaFire
File Mirror #3: FileFront
File Mirror #4: 4Shared
File Mirror #5: SendSpace
File Mirror #6: RapidShare
Description
This mod adds two claymores, one longsword and an offhand longsword (shield) to a vendor shop.
Location
Visit Rohssan at A Fighting Chance in the Imperial City Market District.
Details
The claymores are Daedric-quality and non-enchanted.
The longsword is Daedric-quality and non-enchanted.
The offhand longsword (shield) is Daedric-quality and non-enchanted.
Install
This archive is distributed in I call OMOD-Ready format.
It allows you to manually extract and install like most other mods but it also allows you to use Oblivion Mod Manager and import this archive with all the settings pre-configured for an OMOD file.
Please see the readme file for details.
Incompatibility
None known.
Known Issues or Bugs
The offhand longsword (shield) could use a custom collision model for better havok effects while on the ground. It currently uses the collision model from a Daedric shield.
History
1.1, 2008/02/04 - Added claymore model by Trollf
1.0, 2008/02/03 - Initial Release.
Future
Nothing planned.
Contact
You can find me on the official Elder Scrolls forums as 'Conan_Lon'
You can find me on TESNexus as 'LHammonds'
Credits
LHammonds for the mesh splicing, inventory icons and plugin.
Thanks to Bethesda creating Oblivion, the meshes and textures, construction kit and forums.
Thanks to TESNexus for the a one-stop-shop resource for authors and players.
Thanks to Trollf for the claymore with the modified hilt (DaedricTrapClaymoreTrollf.nif)
Thanks to claudekennilol for the initial request and idea.
Tools Used
a href="http://www.tesnexus.com/downloads/file.php?id=8698">DDS Converter
NIFSkope
Oblivion Mod Manager
Paint Shop Pro
Readme Generator
TES4Files
TES Construction Set
Licensing/Legal
Consider this a modder's resource. You can do whatever you want with this mod but all I ask in return is that you give credit where it's due. I would also like to know what mods are including this work out of simple curiosity.