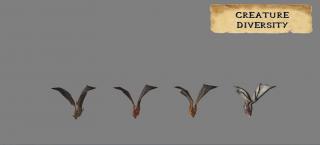 Views: 1,959
1.0.6
Zaldir
Creature Diversity
Version 1.06
By Zaldir with Hypergames2K8


Description
This mod adds some new creatures to the leveled lists. There's mostly re-textures of vanilla creatures, but also some new ones.
None of these textures and models were made by me, I just added them to the leveled list. New creatures does not replace vanilla creatures, but adds more diversity to the leveled lists.

If you already have version 1.06.x installed, use the UPDATE file to get the latest version.

Install
Extract all content to (Default) C:program filesBethesda SoftworksOblivionData

Uninstall
Delete the following files/folders:
Creature Diversity.esp
meshesCreature Diversity
texturesCreature Diversity

Changelog
View Full Changelog
Version 1.06
Added bats, mudcrabs, dogs, elementals & Golems.
Reduced the chance of encountering rats.

Next Version
The Next Version will include Whales and dolphins, and possibly some creatures from the horror creatures mod.

Thanks To
Team CiVic for the Trailer.
olafreinhardweyer for the Idea.
TeamGecko for the TES4Gecko.

Licensing/Legal
You can do whatever you want with this mod but all I ask in return is that
you give credit where it is due.