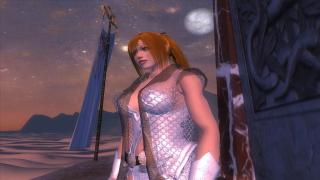 Views: 3,570
1.0
Divine Avenger
Name: Brinn a Female Breton (NECEva) CM Partner
Version: 1.0
Date: 5/30/2008
Category: Companions
Homepage:Divine Avenger's TES:IV Oblivion Videos and Screenshot Stories
Description
===========
This is Brinn a Female Breton companion/partner completely based off of the awesome CM Partners Mod from Cutthroat Mods by Blackie
A lot of questions can be answered at the CM partner creators url above.
Requirements
============
CM Partners Mod Basic - Download and install the latest files here:
http://www.tesnexus.com/downloads/file.php?id=7819
(The only files needed to run this Brinn Partner is the CM Partners.esp and the CM Partners.esm and of course the .esp from this mod)

REN'S BEAUTY PACK
NEC's CHARACTER EVA

Latest Oblivion Patch
Details
=======
Brinn is an experienced Spellsword class character and is quite deadly with her blade skill but is known to cast a few spells. She is staying at "The Drunken Dragon Inn" and is currently questioning the locals looking for a partner to dungeon crawl with. Uh that would be you.
Install
=======
1. Install REN'S BEAUTY PACK first.
REN'S BEAUTY PACK

http://www.tesnexus.com/downloads/file.php?id=4431
2. Install NEC's CHARACTER EVA next.
NEC's CHARACTER EVA

3. Install the contents of this mod next. NEC's Nec-Character_Eva.esp is "not" needed and can be deleted.

4. It is OK to overwrite both the CM companion .esp and .esm and sound folder and any other folders as well.

5. You do not need Ren's .esp so you can delete it.
This mod
========
1. Extract the files to a temporary location (your PC's desktop for example).
2. Examine the folder structure and make corrections where necessary.
3. Copy files Meshes, Textures, and the DABrinn.esp to "Program FilesBethesda SoftworksOblivionData"
4. Start the Oblivion Launcher, click 'Data Files', place a check mark beside DABrinn.esp, CM Partners.esm, and CM Partners.esp and any other CM Partner esps that you want to add to your game.
5. Remember Blackie's CM Partners mod basic is needed for this mod to function. Blackie has supplied excellent documentation that explains most of the options for this companion mod so please take the time and read it.
Misc
=====
If you are using my other companions Tamara, Aliyah, Raewyn, Aanila, Gimli, or Gandalf it is OK to overwrite the CM Partners.esm, and the CM Partners.esp as they are both compatible with one another. You can use the Party commands
now too.
A CM PARTNER COMPANION DWARF GIMLI
A CM PARTNER COMPANION TAMARA
A CM PARTNER COMPANION ALIYAH
A CM PARTNER COMPANION RAEWYN
A CM PARTNER COMPANION FEMALE DREMORA AANILA
A CM PARTNER COMPANION GANDALF

A great thing about this companion is that it is completely compatible with all the Animation mods out there. Example: trollf's Actors in charge. The animation spells work well.

Here are two great animation mods.
Actors In Charge
Actors In Madness

You can find some of the clothing/armor mods used in the pictures here:
Mod List
History
=======
5/30/2008 - Removed many duplicate files from the esp so this will be final now that the esp has been cleaned.
1.0, 4/12/2008
Contact
=======
You can find me on the official Elder Scrolls forums as Divine Avenger
You can send me an email here:
Link
You can send me an email here: trooper1 AT fastmail DOT fm
You can find me on Tesnexus as Divine Avenger
Credits
=======
Thanks to Cutthroat Mods - Blackie!!! I would not have been able to make my own companion from scratch. So many many thanks to Blackie for providing this mod to share.
Thanks to Ren for creating such a great race mod with many cool hairs.
Thanks to NEC for creating such an awesome/pretty face to start with.
Thanks to Duke for help with stats and weapons.
Thanks to Bethesda for creating Oblivion.
Thanks to LHammonds for the Readme Generator this file was based on.
Thanks to Darkone of Tesnexus.com and Planet Elder Scrolls hosting this file.
Licensing/Legal
===============
If I do not respond within 1 week from an e-mail or PM, feel free to do whatever you like with this mod. Just make sure you give credit where credit is due.