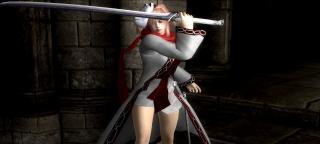 Views: 547
2.1
amsterdam2019
About the files
DMC Stylish 2_1 Specialanims: uses an .esp to enable DMC idle and DMC "regular" attack animations only for the player. NPCs will not use them; however, they *will* use DMC power attack animations. Also, be warned: The DMC attack animations will only randomly work; that is, you will sometimes see the DMC attack animations, and sometimes vanilla attacks.

DMC Stylish 2_1: This does not use an .esp, and applies all installed DMC animations to the player and all NPCs, including the DMC idles. This is often referred to as an animation replacer. It is simply animations that overwrite the vanilla ones - you "set it and forget it." The DMC animations will always work; you will not see vanilla anims again. At first glance, this version may seem pointless to offer at all - But if you use it in conjunction with MaYu's Animation Overhaul(MAO) and Wrye Bash (a very powerful, but also complex, utility) you can force all NPCs to use vanilla animations - even for power attacks.


DMC Stylish addon Sword Dancer 1_0: Contains only additional "regular" DMC attack animations, for use when(and only when) dual-wielding. This file is set up for specialanims; it uses an .esp. It is, however, compatible with the animation replacer version of DMC Stylish(see the readme contained in the file), and when used with it, provides for variety in attack animations, because of the random nature of specialanims. MAO *appears* to function correctly with this mod enabled, but conflicts may, at some point, manifest. This file requires prior installation of one of the other two.

Note regarding dual wielding: DMC Stylish is all about animations; it does not contain any weapons, any offhand weapons(which are generally modded shields with weapon meshes), or any scripting functions that might enable the use of dual weapons. There are many mods that do one or both of these things, but DMC is here only to make your attacks look, well, stylish.

One more note: DMC Stylish animations have a decidedly anime feel. Please backup Data/Meshes/Characters/_male before installing DMC Stylish, in case you might want to return to your previous animations. That way it will take only a few clicks to do so.

Thank you for reading this -
Description by Trollkin
***************************************************************************************************************************


Preface
========
I am not good at English. Because enough support is not possible, please understand it.



Description
===========
This mod changes the skill animations of Blade and Blunt look like a Japanese Action Game. It is only a 3rd person stance.



Update
========
Add Dual Wield Style.

2.1
---------------
1.Fixed, movement direction sometimes slips off. (I ask for inspection of this.)
2.Fixed, body inclines diagonally when after normal attack moved to defense immediately.
3.Fixed, stuttering of scroll screen at the moving.

Fixed, CTD at the new game start.(Specialanims ver.)

Add specialanims version.
This version adapts the animations of idles and movements only for player.



2.0 Fixed
---------------
1.Fixed the problem that mesh breaks when dying while moving the Onehand Attack Power.
2.Fixed the problem that tail twists while moving the onehand Attack Forward Power.



2.0
---------------
Add animation for onehand weapon.