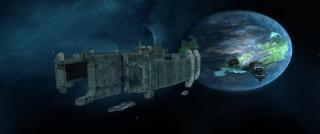 Views: 951
0.2b
loder
Titan Swap
Version: 0.2 Beta
Compatibility: Rebellion

This mod was a personal project for Rebellion which switches the Loyalist and Rebel Titans.

Its still in the beta stage since I am not sure if the AI are able to construct the Titan. I would appreciate any comments.

In the current version it only swaps the TEC titans. The TEC Loyalists can now build the Ragnarov Titan and the Rebels use the Ankylon Titan.

Please remember the mod is in the beta stage and I would not recommend using it for any multiplayer games. Once I am satisfied that the AI are actually able to build the Titan I will adjust the Rebel/Loyalist factions for the Vasari and Advent.



Installation
Find the Mod folder for your relevant game version and paste the Titan Swap folder in there.

C:/Documents and Settings/USERNAME/My Documents/My Games/Ironclad Games/Sins of a Solar Empire Rebellion/Mods-Rebellion v#.##

Goto the Mods page in options when you launch the game and enable the mod.



Conflicts
None I am aware of.



Contact
You can contact me on the Mods Reloaded website. My username is loder

http://modsreloaded.com