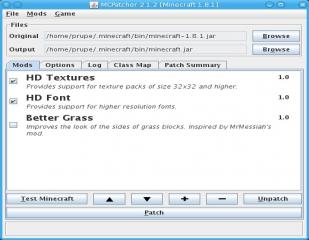 Views: 1,469
2.4
Various
Custom Colors mod!
Texture pack authors can now customize many colors in the game including swamps, lighting, and more. See Misa's texture pack for examples.



HD texture pack and font support.
Custom terrain and item animations for any tile, including water, lava, and portals.



Includes
MrMessiah's BetterGrass mod.

Balthichou's RandomMobs mod.

Ability to load other mods like ModLoader.

Ability to save and load mod profiles and switch between them easily. Also organize your mods by the Minecraft version they go with.