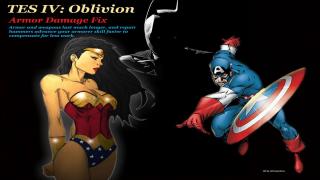 Views: 890
1.1
Drakeelvin
The Elder Scrolls IV: Oblivion
Armor Damage Fix v1.1

Armor and weapons last longer, and repair hammers advance your armorer skill faster to compensate for less work. The new rate of item damage feels a bit more like Morrowind where you could maintain a high state of repair using your hammers less frequently.

Install:
=======
Copy ArmorDamageFix.esp to your Oblivion data folder and enable it.

Technical:
=========
Load this last and it will work. There are various balance and realism mods around but I never found any specific mention of the settings I changed; however, some other rebalance mods may also change these settings IDK. Armor last three times as long, weapons last four times as long, and repair skill advances twice as fast.

Credits:
=======
Wonder Woman, Captain America and Batman pictured in their iconic superhero armors came from fanpop.com.

Disclaimer:
==========
Superhero armors not included.