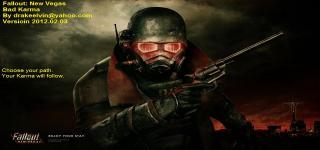 Views: 1,831
2.0
drakeelvin@yahoo.com
Fallout: New Vegas
Bad Karma
By drakeelvin@yahoo.com
Version 2.0
03-Feb-2012


README


Choose your path. Your Karma will follow.


In real life, doing evil can undo a good reputation pretty quick: good and evil deeds don't weight the same.

Also, New Vegas made it virtually impossible to end up as anything but a Saint no matter how hard you tried.

BadKarma.esp rebalances Karma gains and losses to address these issues.


Now, in the long run, your Karma will go in the right direction based on your playstyle.


THREE MAIN CHANGES


Killing good folks now has 4X the weight of killing evil creatures or folks.

Cannibalism is serious. New Vegas calls it a crime against nature, reviled by civilized people, so now it is.

Theft has more weight now because folks trying to survive in the Wasteland would value their possessions more. You can steal stuff but if you steal a lot of stuff it will affect your reputation now.


(The charts at the bottom outline the old and new systems and explain a lot.)


INSTALLATION


Requires Fallout: New Vegas 1.4

Extract files to your Data folder and enable the plugin.


KARMA CHARTS & NOTES


The New Vegas Karma system is messed up in a couple of ways.

These charts and notes help make sense of the old and new systems.


CHART 1: NEW VEGAS KARMA SCALE


+750 to +1000 Saint
+250 to +749 Good
-249 to +249 Neutral (Player starts at 0)
-250 to -749 Evil
-750 to -1000 Devil


CHART 2: OLD AND NEW KARMA EFFECTS


OLD/NEW/DESCRIPTION

-100 / -256 / Murder Very Good NPC
-50 / -128 / Murder Good NPC
-1 / -64 / Cannibalism
-5 / -16 / Stealing
+100 / +32 / Kill Evil NPC/Creature
+2 / +64 / Kill Very Evil NPC/Creature


NOTES


This is not a perfect fix, the game has too many inconsistencies in NPC, creature and item categorization to fix them all.


The main things that don't get fixed are as follows:

In New Vegas, killing some creatures and NPC's doesn't affect Karma at all; a tiny number affect it the wrong way.

In New Vegas, some items may seem arbitrarily flagged as property or not, affecting what is salvage and what is theft.

Just live with these issues. Real life isn't always fair -- New Vegas doubly so.


The important thing to remember is that your Karma will go in the right direction now, based on your long term behavior.