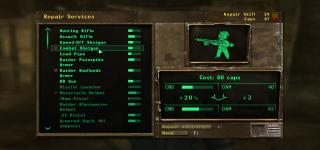 Views: 2,899
0.53
SGHi
Name: Fallout 3 Interface Mod - Revelation
Version: 0.53
Date: 2009/08/11
Category: UI
Required: Fallout 3 (Any Version)
Author: SGHi (http://www.sghi.info/)

SLOW MENU FIX
=============
I have placed a new update for my mod.
But i am not sure it works correctly for 100 percent... :)

WARNING!
========
Little DELAYS when entering menus (i.e. barter) appear because of new textures. Standard menus have very simple structure and light-weight textures. And when game loads my full-featured textures in real-time without caching... delay happens. If you have a slow menu - try a new FIX!

And about buttons. Buttons was made with stock, bigger than text on them. Active area, which presses the button, is the same as text width. So pressing the button means pressing the text, not the borders of button. Later i'll try to fix the problem, but now it's low priority problem.

Description
===========
This mod changes skin of ingame interface using textures from "Fallout
Tactics" game. Also the number of text lines was changed in certain places.

Following menus were changed in this version:
~ Barter (Fallout Tactics style)
~ Container (Fallout Tactics style, same as Barter)
= Dialog (Fallout Tactics style)
~ Quantity (Fallout Tactics style)
~ Repair Services (Fallout Tactics style)
= Sleep Wait (Fallout Tactics style)
= Message menu (Fallout Tactics style)
-----------------------------
= No changes.
~ Renewed in current version.
+ NEW in current version.

Features
========
1. New buttons in certain menus (later in all...).
2. All big "menus" are now partially transparent(for 70%)
3. 8 text lines in "Dialog menu" (3 usually)
4. 18 text lines in "Repair Services menu" (14 usually).
5. 11 text lines in "Barter/Container menu" (7 usually)
6. Interface customization in Pip-Boy colors is now partially supported :)

Also this mod replaces default font Glow_Monofonto_VL_dialogs.fnt(#6)
with smaller Glow_Monofonto_Medium.fnt(#3). Also it decreases
line-spacing a little.

Install
=======
1. Extract this archive to your Fallout Data folder. The Data folder
can be found under the directory where you installed Fallout.

2. Locate your FALLOUT.INI file. Usually it is found under My
Documents/My Games/Fallout 3.

3. Edit your FALLOUT.INI file in a text editor like Notepad.

4. Change bInvalidateOlderFiles=0 to bInvalidateOlderFiles=1. It is in
the [Archive] section a ways down in the file.

5. Save the INI file.

6. Start the game.

Uninstall
=========
If you didn't install other GUI changing mods, all you need is to
remove both folders "menus" and "Textures" in Fallout Data folder.

If you installed other GUI changing mods or you are unsure, just
remove following files from Fallout Data folder:

Data/menus/barter_menu.xml
Data/menus/container_menu.xml
Data/menus/message_menu.xml
Data/menus/message_menu0_w-buttons.xml
Data/menus/quantity_menu.xml
Data/menus/repair_services_menu.xml
Data/menus/sleep_wait_menu.xml
Data/menus/dialog/dialog_menu.xml
Data/menus/prefabs/list_box.xml
+
Data/menus/prefabs/REVELATION_***.xml (all REVELATION_ files in this folder)
Data/Textures/Interface/Revelation/*.dds (all files in this folder)

Incompatibilities
=================
There are some possible bugs on low resolutions(1024x768 and 800x600
especially). Later i'll test that resulutions, but now i'm too lazy.
:)

Some text labels in not english or russian Fallout 3 versions can get
out their places. It may happen 'cause different word translations may
differ in letters count. I'm trying to leave a reserve in text fields
but nothing is unlimited. ;)

History
=======
0.53, 2008/11/21 - Barter, Container, Quantity and Repair Services menus a finely-tuned.
0.50, 2008/11/15 - Retextured Repair Services menu.
0.46, 2008/11/12 - Container XML updated. Dialog menu a finely-tuned.
0.45, 2008/11/08 - Retextured Barter menu. Color text.
0.40, 2008/11/08 - Retextured Dialog menu.
0.39, 2008/11/04 - New Message menu.
0.35, 2008/11/04 - New Sleep Wait menu. Bugfixes in Barter & Repair Services menus.
0.2, 2008/11/02 - Little changes. :)
0.1, 2008/11/02 - Initial release.

Contact
=======
You can get connected with me through the special page on my home
website http://www.sghi.info/feedback

Credits
=======
Thanks to Bethesda for creating Fallout 3.

Tools Used
==========
FO3Archive by ScripterRon
WTV - DDS file viewer by Tomas Blaho
NVIDIA DDS Plug-in for Adobe Photoshop

Licensing/Legal
===============
You can do whatever you want with this mod. No permission is required to
use any of the resources.

Mod is updated oftenly, so it's better to use link
http://www.sghi.info/archives/Fallout.3/my_mods/Fallout3_Interface_Mod_Revelation.rar

Preview
=======
http://www.sghi.info/img/Fallout.3/my_mods/Fallout3_Interface_Mod_Revelation/barter.jpg
http://www.sghi.info/img/Fallout.3/my_mods/Fallout3_Interface_Mod_Revelation/container.jpg
http://www.sghi.info/img/Fallout.3/my_mods/Fallout3_Interface_Mod_Revelation/dialog_hero.jpg
http://www.sghi.info/img/Fallout.3/my_mods/Fallout3_Interface_Mod_Revelation/message_menu.jpg
http://www.sghi.info/img/Fallout.3/my_mods/Fallout3_Interface_Mod_Revelation/quantity.jpg
http://www.sghi.info/img/Fallout.3/my_mods/Fallout3_Interface_Mod_Revelation/repair_services.jpg
http://www.sghi.info/img/Fallout.3/my_mods/Fallout3_Interface_Mod_Revelation/sleep_wait.jpg