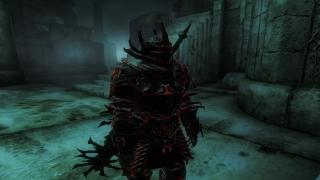 Views: 2,530
1.0
J3X
Name: Daedric Crescent
Version: 1.0
Date: 9/23/2008
Category: Weapons and Armor
Author(s): J3X


Description
An animated Daedric Chainsaw, wielded by a lethal vampire.


Location
Think of an Ayleid Ruin located east of Skingrad, full of vampires.


Details
A powerful enchanted Daedric Chainsaw that has fallen into the hands of a certain vampire by the name of Rafael.


Install
1. Extract the files to a temporary location.
2. Copy files to (install folder)Oblivion/Data
3. Start Oblivion Launcher, click 'Data Files', place a checkmark beside the .esp file.



Uninstall
1. Start Oblivion Launcher, click Data Files, uncheck the .esp file(s).
2. Delete the files/folders associated with this mod.



Credits
All credit for this mod should go to J3X. I did not create the weapon model, so all credit for this belongs to him.

Thanks to J3X for the model. All credit for this should go to him.
Thanks to Bethesda for creating Oblivion.
Thanks to LHammonds for the Readme Generator this file was based on.
Thanks to God for creating us all.


Tools Used
TES Construction Set - http://www.elderscrolls.com/downloads/updates_utilities.htm


Licensing/Legal
Don't complain to J3X if it doesn't work, causes your PC to blow up, set it on fire, or cause any other catastrophic event. Go ahead and rant to me if this happens.

*ALL CREDIT FOR THIS GOES TO J3X*