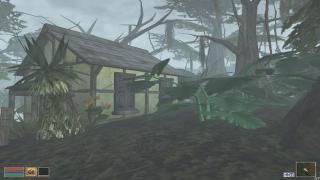 Views: 982
1.0
princess_stomper
This mod by princess_stomper adds a major city complete with quests.

Originally developed as part of the Cyrodiil: Dawn of Oblivion package, Leyawiin has become a mod in its own right. In common with Aldbarrow, it is a place of leafy palms and tropical beaches, but Leyawiin enjoys its own rich culture and history and can entertain the player for many days. The city consists of three islands joined by bridges, and sits right on the border with wild Elsweyr on Cyrodiil's southern border. The mod commences shortly before the Oblivion main quest. There is an optional add-on for Children of Morrowind.

This self-contained city is entirely in interior cells. It adds houses, shops, NPCs and quests all based on The Elder Scrolls IV: Oblivion and Bethesda's pre-Oblivion concept art. The action takes place approximately 18 months before the start of Oblivion, so the Blackwood Company is still an informal collective of mercenaries (rather than a guild) and Mazoga the Orc is not yet a knight. The Fighters' Guild is in a state of disarray, but they will still ask you for menial favours in return for pocket-change. There is a full set of Mages' Guild quests, but instead of progressing through the ranks as you do in Morrowind, you will receive an Oblivion-style Recommendation. The most 'interesting' quests are given by the shady Blackwood Family. You can buy a shack, a house or a mock-Ayleid property to live in; you can also gain access to the castle's guest quarters, or an NPC home, through quests. The NPCs have complex schedules that allow them to go to work, go to church, visit each other and go home at night. Some even sleep on beds. Others frequent the city's three taverns. A huge sewer network links the three districts, lending adventures of its own. Many of the buildings have views of the outside world. You can bet on a scrib race, sit on a barstool, or just watch the boats from the docks. The leaves on the trees and shrubs are animated, and there are many kinds of wildlife as well as domesticated creatures around. Your own house has a garden with a pool and outhouse, though you may prefer to relax in the nearby spa. You can recruit a companion to help you on your quests, or work your way up through the ranks of the local guilds. You can loot the crypt or help the Countess. You can blackmail the bookseller or search for the missing pet. You can barter for rare weapons or search the castle's hidden passages. A world of adventure awaits you in Leyawiin.